Law
Law School Forum Examines Health Care Debate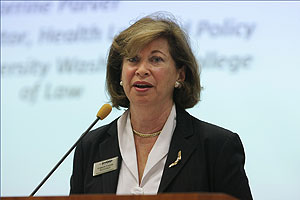 Lawyers and lobbyists involved in all aspects of the ongoing health care debate in Washington took time from their seemingly around-the-clock work on Capitol Hill Sept. 23 to share their thoughts on the issue at the Washington College of Law.
Seven panelists opined on the perspectives of the administration, consumers, the insurance industry, caregivers, and the legality of some of the proposals during the forum, entitled "The Presidency of Barack Obama, the Legacy of Senator Kennedy: Has the Time for Health Care Reform Arrived?"
"The issues center around three things: access, quality, and costs," said Corrine Parver, practitioner in residence and executive director of WCL's Health Law Project, Program on Law and Government, which cosponsored the event. "Is it dead on arrival? We'll see."
Eye-opening numbers were thrown around from the very start of the forum.
"There are 46 million uninsured people" in the United States, said Gwen Majette, global health law scholar at WCL. "Because they are uninsured, they are at a 25 percent higher risk of death than insured individuals."
Among America's insured, 54 percent receive their coverage from their employer. The problem is, Majette said, that fewer and fewer employers are offering health insurance to their employees. In 2000, 69 percent of companies did just that, while this year only 60 percent do.
Joel Michaels, a partner with McDermott Will and Emery, discussed the politics of the issue.
"When you talk about the public option, people say this is the government's first step into creating a national health care system, and we don't like it," he said.
Massachusetts often is cited as an example of what a government-run health care system might look like, said Jeff Mittleman '97, a partner at Holland and Knight.
"The mandate has worked," he said. "Ninety-six percent or so of individuals in Massachusetts are now insured. The issue is, because of the recession, in Massachusetts you're required by law to have a balanced budget. You have people who are unemployed who are buying in and being subsidized. The cost to the system has gone up significantly, so [the state] has had cuts in other places like education."
Ahavia Glaser, AARP's chief Medicare lobbyist, also examined whether the government requiring people to buy health insurance will work.
"We won't have done anything in terms of covering folks if at the end of the day there's an employer or individual mandate and you get an exemption because it's not affordable," she said.
With all the different players lobbying for their own self-interests, the process can be a little disheartening. But Jim Pyles, a partner at Powers Pyles Sutter and Verville, left the students in the audience on a positive note.
"If you get involved in health care policy, and I hope you do, there's going to be all kinds of resistance to change," he said. "Try to retain your idealism."