Business
Business Execs Offer Tips on Weathering Financial Storm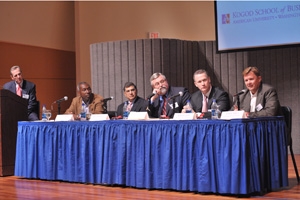 Five Washington businessmen detailed how they guided their companies through the worst financial crisis since the Great Depression, Sept. 24, during an event hosted by the Kogod School of Business.
During rocky economic times, "you can't simply put your head in the sand and hope it gets better," said Bob Segert, president and CEO of GXS, a supply chain management solutions firm. "I would suggest you plan for the worst—then double it."
And while business leaders need to anticipate downturns in the market, they also need to be on the lookout for opportunity.
"Don't be afraid to make the right strategic move that enables you to leapfrog a competitor," said Segert. "You can't be afraid to win, even in down times."
Shiv Krishnan, chairman and CEO of INDUS, which provides IT and management solutions for government clients, said business people also need to focus on existing relationships with clients.
"Hold on, dearly, to your existing customers, because those are the people who are going to rely on you, and stick with you," he explained.
Communication with employees is also key. As chairman and CEO of Network Solutions, an IT firm, Roy Dunbar said he's the "face of the company for employees." He makes a point to walk the halls and chat with staff in order to ensure spirits—and productivity—are high.