International
Advocates, Academics Chronicle  Peacebuilding Efforts at SIS Event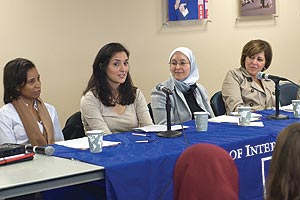 In ways big and small, Muslim women are drawing from their faith and working toward peace in their communities and around the world.
On Sept. 30, four scholars and practitioners discussed these "transformative actions" during the fourth installment of "Engaged Conversations," an Islam lecture series sponsored by the School of International Service (SIS).
Salma Elkadi Abugideiri, codirector of the Peaceful Families Project, discussed her work with Muslim victims of domestic violence, and the ways in which she tries to help them find peace.
According to Abugideiri, about 10 to 50 percent of Muslim women in the United States have experienced or witnessed domestic violence, compared to about 25 percent of women, nationwide. And while cultural nuances often make it difficult to reach Muslim women who are being abused, Abugideiri encouraged the audience to ask questions, offer a helping hand, and open a dialogue.

"I challenge all of us to be more aware of injustice and to stand up, in our own ways, and make a difference," she said. "In making the difference in the life of one human being, you are making a difference in the world."

Alma Jadallah, president of Kommon Denominator, a conflict resolution firm, also urged the audience to challenge stereotypes about gender and religion and work toward Muslim women's empowerment, social justice, and equality.

"If you are an advocate, it means you are wearing your values," said Jadallah, visiting scholar at SIS's Center for Global Peace. "You are taking a risk . . . and adding value and meaning to those around you."
The event also featured Kelly Pemberton, religion and women's studies professor at George Washington University, and Diya Agha, managing editor of the Common Ground News Service.