On Campus
AU Teaming Up with Branding Agency to Share Story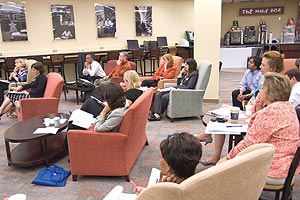 AU is partnering with a marketing and branding firm to share the AU story with prospective students, parents, employers, alumni, and others throughout the Washington area and across the country. On Sept. 17, three firms pitched their ideas to a panel of faculty, staff, and students in the library's Mud Box; AU is currently in final negotiations with one of the agencies.
After a contract is signed, the firm will embark on the "discovery phase," unearthing "unique, unexpected stories that prove and reinforce AU's unique positioning," explained Deborah Wiltrout, AU's senior marketing director. The agency will then craft an integrated marketing effort to convey the AU story.
"The branding effort should and will take a multitude of forms," said Wiltrout.