Athletics
Big Weekend in Store for Men's Soccer Team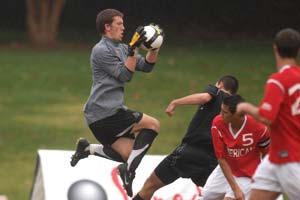 The nine seniors who will be honored before they take the field Saturday for one of the biggest games in recent AU men's soccer history have experienced plenty of ups and downs throughout their careers.
But as their final season winds to a close, their ultimate goal remains squarely in front of them, easily attainable in what has been a special year.
"It's been a great group of guys," Coach Todd West said of the class. "We've got five that are starting now. They've been through a lot together. This is a group that's stayed pretty close on and off the field. They've had to fight through a couple of tough seasons, and now hopefully those experiences can turn into us hosting and winning a championship."
If indeed the Patriot League Tournament comes through AU, Saturday could offer a sneak peek of just how exciting the environment might be. The Eagles host league rival Lehigh as part of a day of festivities featuring an alumni game, tailgate, and the annual Phil Reeves promotion.
More than 30 former Eagles will take part in the alumni game at 11 a.m. After a picnic under the gazebo at Reeves Field, AU will take on Lehigh at 3 p.m. It's a key game for the first-place Eagles, who can clinch a spot in the conference tournament and take a big step toward winning the regular season title and the right to host the tournament.
"It's going to be another one of those Patriot League wars," West said. "They're a very organized team that's tough to break down and create chances against, so when you do create chances you really need to take advantage of them. Most of our games with them throughout the years have been one-goal games. Last year we kind of stole one at their place. They've consistently been one of the top teams in our league, so we know we're in for a battle."
This year, AU has been the Patriot League team to beat, but no one has yet pulled off the feat. At 4-0, the Eagles are perched atop the standings. They've been led by sophomore goalkeeper Matt Makowski, who recorded his third shutout of the season in a gritty Oct. 17 win in a downpour at Navy that earned him Patriot League Goalkeeper of the Week honors.
"He's a hard working guy," West said of his keeper. "When he has success he doesn't let it go to his head. When things are a little bit difficult, he's the kind of guy that wants to work. The hard work and dedication show up, especially over the long haul."
Makowski has benefitted from tremendous defensive play, highlighted by seniors Cooper Bryant and Karsten Smith. The duo will have to be on the top of their game Saturday if they want to keep AU on track to making their last year one to remember.