Government & Politics
Two WCL Faculty Join Obama Administration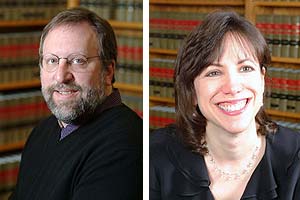 The Obama administration has turned to the Washington College of Law to fill two key positions. 
Diane Orentlicher has been named deputy, Office of War Crimes Issues, for the U.S. Department of State, and Jonathan Baker is the new chief economist at the Federal Communications Commission.
Orentlicher will work with Ambassador-at-Large Stephen Rapp, who leads the Office of War Crimes, which advises the secretary of state and formulates U.S. policy responses to atrocities committed in areas of conflict and elsewhere throughout the world.
"I am deeply honored by this appointment and excited by the prospect of working with Ambassador Rapp in tackling some of the most urgent and challenging issues of our time, including the sweeping impunity that has made sexual violence a fundamental feature of armed conflict," she said. "The Office of War Crimes is uniquely placed to influence these issues, and I look forward to the work ahead." 
Orentlicher is codirector of WCL's Center for Human Rights and Humanitarian Law. From 1995 to 2004, she was a faculty director of WCL's War Crimes Research Office, that provides legal assistance to international criminal tribunals.
Baker will be situated in the FCC's Office of Strategic Planning. He served as the top economist for the Federal Trade Commission during the Clinton Administration from 1995 to 1998. In 1999, he joined the faculty at WCL, where his teaching and scholarship focuses primarily on the areas of antitrust law, law and economics, and economic regulation.
"I am looking forward to working on the fascinating and important communications policy issues addressed by the FCC," he said.
WCL dean Claudio Grossman hailed both appointments.
"Diane's pioneering contributions to the law of accountability and war crimes make her a perfect choice for the Office of War Crimes Issues. We are certain that her appointment will further an important agenda for the rule of law in U.S. foreign policy," he said. "We are thrilled that Professor Baker has been appointed to this critical position [at the FCC]. His extensive experience in antitrust and economic regulation will greatly enrich the decision making process of the administration."