Television & Film
Lights, Camera . . . SOC Filmmaker Gets Students in the Action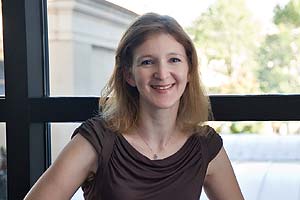 In 1994, Claudia Myers was a paralegal in search of purpose. She found it on the set of an Oscar-nominated film. 
Fresh out of Yale, Myers was contemplating law school when she reconnected with some independent filmmaker friends who needed help developing a screenplay of James Jones's 1962 novel, The Thin Red Line. She spent the next three and a half years casting, scouting locations, and conducting anthropological research for the World War II drama.

"It was a crash course in how to put together your dream project," says Myers of the film, which stars Academy Award winners Sean Penn, George Clooney, and Adrien Brody. "It was also my 'a-ha' moment: I immediately knew I wanted to be a filmmaker."
Now, as a professor in the School of Communication's (SOC) Department of Film and Media Arts, Myers is helping students seize those "a-ha" moments.
"Making films where every shot has significance is an enormous challenge," says Myers, who teaches screenwriting and directing. "I'm teaching students to make films in a way they've never thought about before." As an educator and a filmmaker, "there's nothing more energizing and more gratifying than when that light bulb clicks on for students."
A writer herself—Myers picked up a Nickelodeon Screenwriting Award for Kettle of Fish, which debuted at the Tribeca Film Festival—she particularly enjoys helping students to "shape a story into the best version of itself."
"Every single word in screenwriting matters; there are no 600-page scripts," she explains. SOC is one of the few film schools in the country that requires students to write a full-length, 120-page screenplay—a task both daunting and invigorating.
"Seeing how much students enjoy the process gets me excited about my own work," says Myers, who came to AU in fall 2008.

As much as students soak up in the classroom, however, Myers says there's much more to filmmaking than textbooks and tests.
"We can talk about the creative process and the craft of filmmaking, but there's a reality to the way in which a set needs to run. The pressure is high and time is precious," she explains. "And you don't fully understand that until you experience it."
In June, Myers invited a dozen students to join her on the D.C. set of Below the Beltway, a dark comedy about a disgraced Washington lobbyist, which she's producing. For 19 days, the students worked as production assistants, boom operators, wardrobe assistants, and set dressers on the full-length feature, which hits theatres next year.
"From the moment I stepped onto the set, I was immersed in a completely new world, tackling challenges that were at once daunting and exhilarating," says second-year MFA student Jon Malis, who worked as a boom pole operator and audio assistant.
In addition to earning valuable hands-on experience—and film credit—Malis earned his crewmates' confidence and respect. By the end of the shoot, he "wasn't just one of those 'AU kids,' but rather, a professional boom op for a feature film."
Malis also left the set with a slew of stories, from "hiding microphones on Tate Donovan and Kip Pardue and pulling off a bit too much chest hair with sticky moleskin in the process" and sharing a banana between takes with actor Noah Wyle.
Myers, who's busy editing the film, plans to submit it to festivals next year. She looks forward to enjoying the screening with her students beside her.

"There's nothing like watching your film with an audience," she says. "Filmmakers live for the moment after a screening when people come up and say, 'wow.'"