Athletics
Women's Soccer Team Preparing for Patriot League Tournament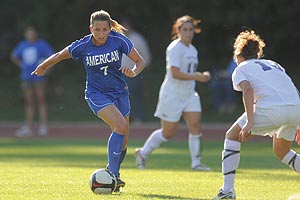 Even before he knew which team his AU women's soccer squad would face this Friday to begin the Patriot League Tournament, Coach David Bucciero still had a game plan. 
"It's more about us than the opponent," he said last week. "We have to be committed as a team, and we have to bring the energy and enthusiasm for 90 minutes, regardless of whether we're winning or losing."
After beating Navy on Saturday to close out the regular season, the Eagles will face Bucknell in the first round of the four-team, single-elimination conference tournament. In many ways it's been a successful season already for AU, whose seven seniors, including offense force Kelsey Brasher, and Erin Koch and Olivia Heditsian, two of three captains, were honored on Saturday.
"They've made an unbelievable impact on the program," said Bucciero, who's in his second year at the helm. "They were determined in the spring to have a better year. They were determined to leave the program on a better note. I give them all the credit in the world because they're on their way to achieving that goal."
It's been a bit of a roller coaster season for AU, which won three of its first four, dropped five of its next six, then won 6 of 9.
"During the season you're going to have highs and lows, and we told our team that in the preseason," Bucciero said. "It's rare when you go through a season where you don't have skids both ways. That happened to us. We got to a point where the energy wasn't there from everyone. The effort, the teamwork, it wasn't showing. Players started getting a little bit fatigued both mentally and physically."
So prior to the Sept. 30 game with Delaware State, Bucciero cancelled practice and instead held a team meeting. Playing with maximum effort and recommitting to the program were among the topics discussed, he said.
The Eagles went on to defeat Delaware State 3-0, sparking a solid season finish.
"It wasn't the complete answer for our turnaround, but I think it certainly helped," Bucciero said.
That was more than a month ago. Now, just two wins separate AU from its first NCAA Tournament berth since 2002.
"We are making a lot of progress," Bucciero said of the overall state of the program. "We are heading in the right direction. Are we where we ultimately want to be? Absolutely not. This has been a good year with the [potential] to be a great year if we make it to the NCAA Tournament."

Bucciero, and more importantly his players, know that whether or not they make it to the promised land has little to do with who stands in their way, and everything to do with how they play.