On Campus
Conversations with New Leaders Across Campus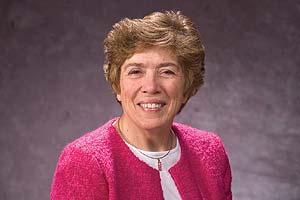 An impressive array of new administrators have joined AU this semester, and American Today wanted to get to know these accomplished people a little better. This is the third in an occasional series of Q&As with the newest members of the AU administrative team.  
Rosemary Wander (Vice Provost for Graduate Studies and Research)
Why did you decide to come to AU?
AU has a unique place among the 4,000 or so universities in the country. It's in Washington, D.C., and Washington is a really exciting city to be in. I'm pretty passionate about scholarship and graduate work. I read the strategic plan and saw it as very bold and innovative. I think that if you increase scholarship at AU you can impact D.C., and if you impact D.C. you can impact the world.
What does your job entail?
Sometimes people tend to talk about research as being in this bucket over here, and graduate studies in this bucket over here. I truly don't think that's the way it is. To me, graduate studies, scholarship, research, professional and creative activities, and students fit together. What the graduate students are doing, and how they're working with the faculty, and how the faculty are working with the students, makes an environment that's so stimulating.

The position then has oversight on all of this. I truly think it's one of the most fun jobs in the country. From this position you see everything. You can begin to see the big picture for the campus. You can have strategic input to the growth of the campus.

What are some of the strengths of AU's graduate programs, and how do you go about strengthening them?
Students come and are so tremendously interested in the political environment and in contributing to society. I think you can see that in work that happens in all the units. You make sure you have all the things in place to take care of what you're doing, then you see where you can grow.
What is AU's reputation as a research institution and does it match the work that's actually going on here?
I've been in a number of schools, the west coast, the central part of the country, and my sense is that AU is well respected across the country, but more for its political activism and involvement with human rights, and its international connections, than for its scholarship. AU is well respected, but when you look at some of the metrics that we associate with strong research programs across the country, AU has some room to grow. What we're trying to do is bring the level of respect for the scholarship that goes on here to the next level.

What are some of those metrics?
External funding. In my perfect world I would not evaluate scholarship necessarily with external funding, but it's what we do in the country and it's what we do in this world. All scholarship does not take great big buckets of money, but it is a very important metric.

Is working on obtaining external funding for research one of your primary goals?
Yes.
How do you go about doing that?
Lots of ways. I think you know the faculty, know where their passions are, then you begin to put communities in place to support faculty accomplishing these things. Faculty across the country are split. They have a lot of responsibilities: teaching, research, and service. Any one of those could be full time.
You have to get grants out there. They are extremely competitive. To get one funding you have to write 10. They take a lot of work. You try to create a community where faculty are assisted in this kind of work, and [with] tools like learning how to write a proposal. The people who have money have something they want fixed, and so you have to address what their needs are. It's telling a compelling story. That's all teachable.
It's creating a community where faculty can exchange ideas.
You have your bachelor's and master's degrees in chemistry. What interests you about chemistry?
It's the base of so much of science. In chemistry you have some basic principals, then you try to think your way through. So it's kind of like a puzzle.
You got your PhD in food and nutrition. What did your research focus on?
Healthy fats. Omega-3 fatty acids. I was asking questions in clinical trials about how do the Omega-3 fatty acids, such as the ones found in cold water fish, influence cardiovascular risk. How do the Omega-3 fatty acids influence the biomarkers that relate to the inflammatory response?

This is the first time you've lived in D.C. How are you liking it?
I find D.C. an exciting city. I have a son and daughter-in-law that are volunteering in Costa Rica right now; they came to town and we rode bikes around the mall. We had a beautiful day; it was great fun.
I haven't done all the Smithsonians, so that's on my list. I am thoroughly enjoying being able to jump on the Metro and go to the Kennedy Center. I discovered the other night the Warner Theatre, I saw Jersey Boys. I love all the different ethnic cuisines that are available. I think D.C. and food are just fabulous.
Every time you look in the paper, you find something else exciting to do in D.C.