On Campus
Table Talk Examines International Financial System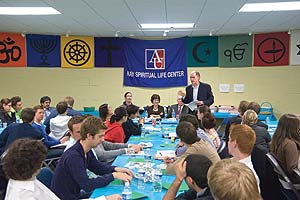 Who are the winners and losers in the global economy? A trio of panelists tackled that question and more during a spirited session on the international financial system, Oct. 28. 
Part of the popular Table Talk Lunch Series, the event featured Raymond Baker of Global Financial Integrity, David Kane of Maryknoll Justice and Peace, and Jo Marie Griesgraber of New Rules for Global Finance.
"If you're not at the table, you don't have a voice and you're going to be on the losing end," said Griesgraber, who advocates for a redistribution of power within the World Bank and International Monetary Fund, in order to level the playing field between rich nations like the United States and developing countries.
Baker, author of Capitalism's Achilles Heel: Dirty Money and How to Renew the Free-Market System, stressed the need for transparency. He called for the automatic exchange of tax information across borders and country-by-country reporting of sales and profits, among other reforms.