Law
Russian Minister of Justice Speaks at Washington College of Law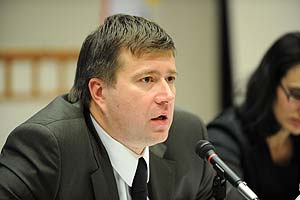 Russian Federation Minister of Justice Alexander Konovalov stopped by the Washington College of Law Nov. 4 to discuss rule of law development in his country.

A former prosecutor, Konovalov listed several areas in which Russia's young judicial system must grow, including:

•    Integration into the international legal community
•    Prioritizing the rule of law in the society
•    Minimizing corruption and bureaucracy
•    Increasing legal awareness of the citizens

"Russia has made an outstanding breakthrough in the last 15 to 20 years when the court had an active role in prosecutions," he said. "Nowadays, we have a competitive system where the parties play more roles in the process.

"At the same time, we are aware that the system needs further improvements," he said. Among those, he said, are:

•    Making court proceedings more transparent
•    Providing lawyers with more opportunities to become judges
•    Changing the mentality of the people toward corruption

In preparation for his trip to the U.S., Konovalov read Barack Obama's memoir, Audacity of Hope, in part to brush up on his English. He described Obama's spirit as "attractive," and believes the U.S. and Russia will have many chances to work together in the future.

"It was a very deep respect for a really serious and dangerous rival," he said of his feelings toward the U.S. as a child. "Nowadays we have a similar respect. In my mind we have an opportunity to cooperate as lawyers and as friends."

Konovalov's visit was sponsored by WCL, the U.S. Department of Justice, and the Embassy of the Russian Federation.