Business
Auto Parts Exec Steers Family Business Through Good Times and Bad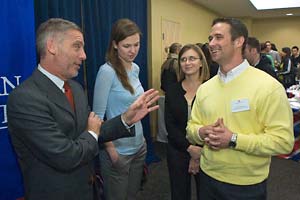 Commercial real estate, not auto parts, is the industry on Blaze Cambruzzi's mind. But the Kogod School of Business graduate student has a passion for those who are passionate about their business, so he headed to hear Eli Futerman on November 11.

Copresident and CEO of Hahn Automotive Warehouse, Futerman, SPA '80, was the featured guest at Kogod's fall Alan Meltzer CEO Leadership Speaker Series.

Hahn has been in Futerman's heart since he was a little boy. The Rochester, N.Y.-based company was started in 1958 by his father, Mike, an Israeli immigrant fond of saying, "Our business is all about picking up pennies that turn into nickels, dimes, and quarters."  

"Every Jewish father wants his son to be one of two things: either a doctor or a lawyer," Eli joked. "I wasn't smart enough to be a doctor, I was possibly smart enough to be a lawyer, but I knew since I was five years old I wanted to work with my dad."

When he became a Hahn executive, Futerman implemented an expansion plan that included aggressively acquiring other companies. In its first year Hahn had sales of $475,000. A half-century later, that figure was $200 million.

No company's growth is without setbacks, however. In 1993 Hahn went public, a misstep, he said, in hindsight.

 "You can only make bad decisions when you have cash in your pockets."

One Futerman made was to expand the company into the retail field, a move that turned out to be disastrous.

"In the retail business you bring customers to you, in wholesale you push the product out the door, even though we're selling the same spark plugs," he said.

So in 2001 Futerman and his family privatized the company once again, and business has been brisk ever since. Even the recession has helped, rather than hurt, Hahn's bottom line.

"What I've learned in business is that every positive has some kind of negative, and every negative has some positive," Futerman said. "A car is mechanical . . . eventually it will break. When people don't buy new cars, they have to get their old one fixed."

It's advice that wasn't lost on Cambruzzi or the other young entrepreneurs in the room.

"I think the No. 1 quality that it takes to provide results is enthusiasm, and he certainly loves his business," Cambruzzi said.