In the Community
Girl Scouts Learn about Credit Cards, Mortgages, Insurance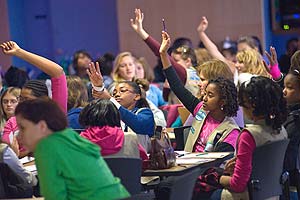 A crowd of giggling but often low-paid and sometimes bankrupt young women — in reality, 150 Girl Scouts playing a financial literacy game — descended on the Mary Graydon Center this weekend to learn about real-world finances from American University volunteers and Girl Scout leaders.
It was a day of mortgage decisions, imaginary crises, trips to the stock broker, and tips from Kogod volunteers who spent their Saturday sharing what they know with the local scouts.
This year, Kogod is emphasizing financial literacy outreach — it has, for instance, launched a series of courses to teach key financial skills to nonbusiness majors — and the scout event dovetailed with the business school's focus.

The game, planned by the Girl Scouts, began when each girl drew a character — a young adult with a specified income and family status — and then had to move from booth to booth, making decisions about whether to buy or rent, save for the future, pay for insurance, invest, or spring for a vacation on the beach.

Why get insurance?

Take this scene at one booth, with a tall, athletic 9th grader in a badge-covered Girl Scout vest: "I am so stressed out. I've got three children, my husband doesn't work, I make only $1,875 a month as an administrative assistant, and I don't have a college degree."
Now for the bad news, from Kogod junior Liz Ung: "Your apartment or house? It's flooded."
"Gosh!"

"You only have 30 seconds to save your belongings."
"Are you serious?"

A few seconds later, having fished only 11 marbles out of a pan of water — symbolic of her belongings in the flood — Catherine Schreiber of Alexandria, Va., has made a decision. "I am so going to get insurance."

Stocks or bonds?

Over at the Wall Street booth, Kogod's Rachel Gordon had a question for a group of girls who looked a bit perplexed about why they should put any of their limited funds into stocks, bonds, IRAs, and mutual funds. "So, do you want to still be working when you're 90?"

Ninety? If that seemed awfully far away, Gordon had a close-to-home example, too: When she was their age, she started babysitting and saved part of the money. Now, in her 20s, her account has . . .

The amount she named caused a lot of eyes to open wide.
"I think it's important to teach kids, even if you're putting away $25 a month when babysitting, it can make a difference if you invest it wisely," said the graduate student in finance.

"It's good to hear about this at a young age," said her partner at the booth, finance minor Chris Baines. "But it's a somewhat difficult subject for them. At this age, I probably would have heard, but not understood."

Still, the scouts had heard it. And when Gordon asked them how they were paying for their own college education — um, our parents will pay? – they looked at their imaginary paychecks and something clicked. Oh, right. To pay for things, someone has to save. And when I'm an adult, that someone will have to be me.

Real-life budget woes

If their budgets didn't balance, they could go to Abby Croshow, a graduate student who really does want to be a financial counselor. She was dealing with hard-up scouts like Megan Winner — a sixth grader in real life — who had drawn a rough deal in the game: as an actress and single mother of three, she earns only $10,000 a year. Still, she'd purchased a home for a mortgage of $839 a month, reasoning the yard would be good for the kids.

After some counseling, Winner had a plan. "I'm going to have to take a second job."
"It's pretty real life," said troop leader Rochelle Commins of Greenbelt, Md.

At least the uninsured floods, dwindling paychecks, and overdue mortgages were hitting the scouts' imaginary characters — and giving them food for thought for the future.
"It's a great event, even if they only take away the realization that money doesn't grow on trees," said Gordon.

The Girl Scouts' Council of the National Capital, which sponsored the "Capital Currency" event, includes the District of Columbia and parts of Maryland, Virginia, and West Virginia.