Athletics
Men's Basketball Team Adds Another Banner to Bender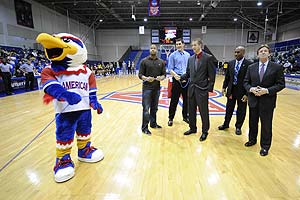 This is getting to be a habit.
For the second straight year, the AU men's basketball team's home opener was preceded by a ceremony in which the Patriot League championship banner was unveiled hanging from the rafters high above the Bender Arena floor.
Three members of the two-time defending league champs — Jordan Nichols, Frane Markusovic and new director of basketball operations Bryce Simon — were on hand for the festivities.
"That's what made it special for me," Coach Jeff Jones said. "Having those guys back."
This year's edition of the Eagles is incredibly young. With 11 freshmen and sophomores, the team hardly resembles last year's squad, but last night they put forth an effort that conjured up memories of the past. While AU came up short, losing 51-50 to the University of Albany, Jones was pleased with the intensity with which his team competed.
"It was disappointing, but at the same time, I am really proud of our effort," he said. "If we can play that hard, we're going to get better. We'll end up, eventually, winning our share of games.
"We talked about being the hardest playing team out there. I think we were tonight. It was a more experienced, bigger, more athletic team. It wasn't pretty, but it's easy to coach guys that played that hard."
After a crisp first half that saw AU take a six-point lead into the locker room, Albany's defense clamped down. Still, with 10 seconds left, AU had the ball and a chance to win, but freshman Daniel Munoz's runner clanked off of the back rim.
It was an anticlimatic end to an invigorating night, one that began with a video highlight reel of last year's accomplishment's and included a proclamation of achievement from the Washington, D.C., Mayor's Office.
"We'll watch film tomorrow morning and point out things out that we need to do to improve, but the big thing is the effort," Jones said. "Moving forward we'll become a better basketball team."