Research
GLBT Scholars Connect, Reflect at Annual Colloquium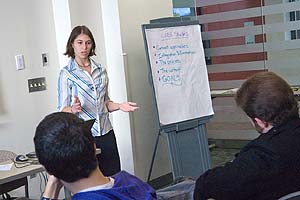 The seed was planted when Bianca Palmisano was in high school. Active in North Allegheny Senior High School's Gay-Straight Alliance, she developed a curriculum on gender and sexuality to help foster understanding and tolerance among high school juniors and seniors.
But it wasn't until she arrived at American University, however, that the Pennsylvania native's project took off. Here, she set out to tweak her curriculum so she could submit it to her former principal for review.
Palmisano enlisted the services of AU's Gay, Lesbian, Bisexual, Transgender, and Ally (GLBTA) Resource Center, whose staff helped her sketch out her ideas. "It's a wonderful starting [place] for academic projects since it has a ton of reading material," said Palmisano, who used the books, magazines, and DVDs at the GLBTA center's new resource library (a satellite of Bender Library). The international studies major also consulted faculty and grad students in the Women's, Gender, and Sexuality Studies Program in the College of Arts and Sciences.
Palmisano was one of nine students, faculty, and staff who presented their work on sexuality and gender issues at the fourth annual GLBT Studies Colloquium, Nov. 17. Sponsored by the GLBTA Resource Center, the Office of Campus Life, and the Department of Sociology, CAS, the event explored such issues as blood donation policies, body image and eating disorders, and spirituality within the GLBT community.
This was the first time the colloquium included presenters from other local institutions, including the University of Maryland and George Mason University.
"The colloquium recognizes work of faculty, staff, and students in various disciplines related to gender and sexuality," and helps establish connections among higher education GLBT resources in the Washington area," said Sara Bendoraitis, director of the GLBTA Resource Center.
For Palmisano, the conference was also an opportunity to gather valuable feedback from an engaged audience.
"Gathering people to talk and brainstorm about the [issues] that LGBT people face today is immensely important," she said. "So many people have thoughts about how to transform our society for the better, it's important to give them a forum to express those thoughts."