Journalism
NPR's Cokie Roberts Fields Questions at Reel Journalism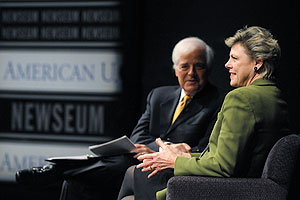 Cokie Roberts's big broadcasting break didn't come easily.
In the '60s, she was told that "women can't deliver the news because your voices aren't authoritative voices."
"Think mama, think Sister Mary," Roberts replied matter-of-factly. "Those are authoritative voices."
Over the last 40 years, Roberts, a senior analyst for National Public Radio and an ABC News political contributor, has established herself as one of the most respected voices in the business.
Given her reputation as a hard-hitting newswoman, it's no wonder Roberts has a soft spot for feisty, star reporter Hildy Johnson, one of the characters in the 1940 screwball comedy His Girl Friday. Roberts chose the fast-paced, gender-bending remake of The Front Page, for screening Dec. 1 at the Newseum, as part of the School of Communication's (SOC) popular Reel Journalism series.
"She's terrific," said Roberts of the character played by Rosalind Russell. However, "the part that I do find unbelievable is her power in the newsroom in 1940." A renowned women's historian, Roberts said there were "lots of women reporters in the '40s, but they were fired after the war" or relegated to the society pages. "It was Rosie the reporter—just like the factories."
Roberts' husband of 43 years, fellow journalist Steve Roberts, added that the movie—which also stars Cary Grant as Hildy's ex-husband and editor—is actually a feminist film.
"[Hildy's] a dynamic, independent journalist. I married a dynamic, independent journalist—I know the type, I recognize it," said Steve Roberts, who taped his remarks for the event.
Moderator Nick Clooney, SOC distinguished journalist in residence, trained the pre-film discussion on the future of the news business.
"If I knew where we're going, I'd be doing something different tonight," laughed Roberts, adding, "The need for information is greater than it's ever been in the world . . . I'm sure we'll come out the other end, I just don't know how we'll get from here to there."
Roberts, who pens a weekly syndicated column with husband Steve, also chatted about the writing process. "We edit each other—gently," she chuckled.
Added Steve Roberts: "We don't always agree, but we respect each other's differences. You can measure a good marriage by the number of teeth marks in your tongue. The same holds true for writing together.
Now in its sixth year, the Reel Journalism series continues Jan. 12, with NBC Nightly News anchor Brian Williams, and a screening of Absence of Malice, starring Paul Newman and Sally Field.