On Campus
Meet New Administrators Raina Lenney and Jane Chittick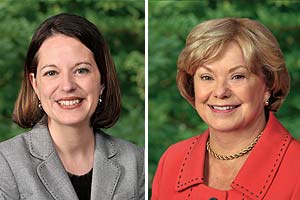 An impressive array of new administrators have joined AU this year, and American Today wanted to get to know these accomplished people a little better. This is the final in a monthly series of Q&As with the newest members of the AU administrative team. 
Raina Lenney, Assistant Vice President of Alumni Relations
What attracted you most about coming to AU?
American University is an exciting place to be right now. With expansion taking place in all areas, including academics, student life, and development and alumni relations, it is clearly an institution that is thinking carefully about its place in the future, and making great strides to get there. I am thrilled to have the opportunity to help shape alumni relations at AU, and thereby help to shape the future of the institution.
What does your job as AVP of alumni relations entail?
I oversee all aspects of the alumni relations program at AU. I am working to enhance cross-divisional and cross-campus relationships in an effort to more fully engage the alumni. Alumni are an integral part of the institution, with much to offer AU and current students, and the institution is dedicated to enhancing those bonds.
What fascinates you about the field of alumni relations?
I think the thing that I enjoy the most, which will certainly not come as a surprise, are the relationships that are formed through this work. The alumni volunteers, particularly the Alumni Association Board members that I have begun to know, are incredibly committed to the institution, and serve as constant affirmation of the work that we do. I look forward to meeting many more AU alumni during my time here, and helping to create these lifelong bonds.
How can AU strengthen its bond with alumni?
It is the job of Alumni Programs to enhance existing programs, while simultaneously creating new programs that will engage the broadest group of alumni. This ranges from educational, social, and career-based programs, to volunteer opportunities that will enable AU to use the collective knowledge of its alumni body, to targeted communications that enable the alumni to remain engaged with the life of the institution. It also means starting this process at the point of admissions; students need to be taught to think of themselves as future alumni, and should have access to wealth of expertise offered by our distinguished alumni.
What area museums or sights are among your favorites?
I have lived in the area for the past 10 years. Some of my favorite spots include the Phillips Collection, the Museum of Natural History, and the National Harbor. Since my son was born (he is one and a half), we often go to the zoo.
Jane Chittick, Assistant Vice President of Development
What excites you most about coming to AU?
I am very taken with the service mission of AU across the schools and programs. AU has taken full advantage of being in our nation's capital and all that it offers: there is such a high degree of integration of Washington's culture, heritage, political and judicial process into the student's curriculum and life here. By being immersed in our larger society, students learn that education is not simply a matter of classes or dorm life on a college campus somewhere far from the 'real world.' The 'real world' is immediately brought into their daily conversations and activities. I am also honored to be part of the new administration and direction of the university: the caliber of professionals coming here is what is setting the bar. President Kerwin and Vice President Minar are two prime examples of this new direction and are major reasons why I was so pleased with my appointment.
What will your role be in the development office?
I am leading the major gifts efforts in all school-based units. We have a great staff, and I'm really enjoying working with them . . . on strategies to increase our collective successes. When talking about major gifts, it's all about getting to know people personally, so we understand better what it is that will inspire them to give to AU. It's all about people and finding that perfect match.
What energizes you about the field of development?
I am someone who talks to anyone, as I am genuinely interested in others and establishing a connection: it may be brief or a more in-depth conversation about someone's life and how they came to where they are now. We all have stories. In development, I want to find out what motivates the donor to help others. Then, I help them turn their dream into a reality. There's no greater feeling than knowing you helped someone realize a dream.
Have you ever lived in DC before?
I moved here in 2004 when I accepted another position. I've lived many places: I grew up in Massachusetts, moved to France, came back to the Boston waterfront, lived on an island and then a desert. Now I live three blocks from the Capitol where I see the dome at night when I come home from work; it's rather thrilling to be right in the center of your country's decision making!
What museums or sights are among your favorites?
About the only museum or monument I have not visited is the Hirshhorn: I have no idea why I haven't yet. My favorite monument is the Korean War Monument. You can feel these statues come to life, walking up the hill with the cold winter wind at their backs, talking to one another. At nighttime the fronts of the statues are illuminated with a special white light and it seems as if their ghosts appear. It is deeply moving.