Literature
BleakHouse Partners Professor and Students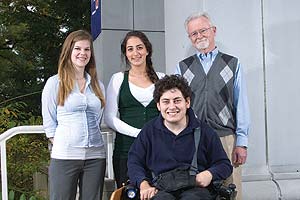 Professors generally rely on scholarly and literary readings for analysis. But School of Public Affairs professor Robert Johnson incorporates another model into his criminal justice classes.
Several years ago, Johnson began writing poetry to get at his thoughts in a more personal way than is possible in scholarly writing.  In time, he began having his students read literature written by prisoners and inviting them to express their thoughts in poetry or fiction. The point wasn't for students to sympathize with the prisoners or argue their innocence, but to add depth to their understanding of incarceration.
Johnson's next step was to start the small BleakHouse press to create writing and publishing outlets for both his students and his own literary efforts.  Students are immersed in the process.

He recalls the start of a recent collaboration. A conversation with a student about the student's poetry led Johnson to seek the young man's input on his own work; the casual critique led to Chris Miller, SPA/BA '11, becoming editor of a poetry collection, A Zoo Near You, which includes work by Johnson and his students.

Miller, who is passionate about both criminal justice and writing and hopes to attend law school, relished the opportunity to edit and write. "I enjoy dissecting and analyzing arguments, but I also find writing to be an emotional outlet that helps me cement my ideas and sort things out.
"I have cerebral palsy, and the whole effort to deal with my disability has given me empathy for other people who struggle. I think that's part of the reason I want to do criminal law, because I have that empathy for the underdog," he says.
"But I'm so busy with life," adds Miller, who has interned with the D.C. Public Defender's Service and the Innocence Project, "that I wouldn't make time for creative writing without a class to spur me on."
So he took Johnson's class, which led to an outside-the-classroom working relationship with the professor and other like-minded students. The book project also gave an opportunity for Sonia Tabriz, SPA/BA '10; and Liz Calka, SOC/BA '10; to show their skills in graphics and design.
The project enabled the professor and his students to work not just as teacher and student, but as colleagues who grow from each other and expand each other's horizons.