In the Community
Neediest Kids Receive Helping Hand from SOC Public Relations Class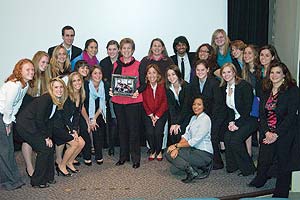 Neediest Kids is a Washington-area nonprofit with a full-time staff of exactly one. 
But for the past three months, the charity, which provides financial assistance to elementary, middle, or high school students in need of the basics—new clothes, a pair of shoes, eyeglasses, school supplies, medicines, a visit to the dentist—has had an entire public relations team working hard on its behalf.
Gemma Puglisi's portfolio public relations class took on Neediest Kids as its client this semester, crafting a P.R. campaign that achieved remarkable results.

Between online and traditional media, and other outlets, Neediest Kids received more than 7.6 million impressions (mentions) as a result of the class' work. The students also raised $750 during two fund raisers, and possibly much more by publicizing a text message donation program for the organization. Those numbers will be tallied soon.
"You've made such a huge difference," Neediest Kids executive director Lynne Filderman told the class Dec. 1 when the students presented their final results. "We didn't have a media kit, press releases, or a press kit before you came around. When we came to your class on Sept. 1, we had no idea what we were in for."
Puglisi did. Each semester she pairs her class with a real-world organization, and she pushes her students to achieve results as hard as an actual boss at a P.R. firm would push her employees.
"They realize pretty early on what it's all about," the School of Communication professor said. "Every year I'm astounded at how talented the students are getting. Seven million impressions, if you paid an agency to get that, would cost a heck of a lot of money."
The class designed a campaign, "Pizza Pies for School Supplies and More . . ." around Neediest Kids' promotion with Papa John's pizza. Every time someone orders a large specialty or up to five-topping pizza for $13.99 online and enters the promotional code NEED, the chain donates $1 to Neediest Kids.

Much of the effective communication came online. They were able to get a fund raiser for the organization listed on several radio and TV station Web sites, and they created a Facebook group and Twitter account as well.
The slogan was printed on coasters, flyers and magnets to get the word out, and the students worked to publicize Neediest Kids' online auction, which features a variety of basketball game packages donated by the Washington Wizards.
Senior Nasser Romaithy really thought outside the (pizza) box. He friended a Project Runway contestant on Facebook, then posted a congratulatory message from Neediest Kids on her wall when she won the reality show. Her page was inundated after the final episode aired, meaning thousands of people laid eyes on the Neediest Kids logo.

"I was so impressed by their ingenuity," Filderman said. "The quality of their work was amazing. They had a strategy and they stuck to it."

Neediest Kids last year helped 32,000 children throughout the metropolitan area. Next year, that number very well could be higher in large part due to the work of the student P.R. firm.
"This class was so much different than any other class I've taken at American," senior Maile Krauss said. "I worked in public relations, and this was like we were working in an office for a firm. We're so fortunate to be a part of this organization that has such a rich history in the area."