Athletics
Wrestling Team Continues Its Ascent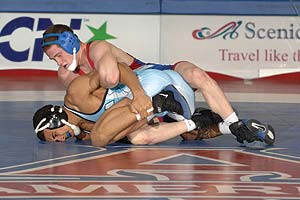 Kyle Borshoff is 6-0 and ranked third in the country, yet feels he has considerable "room for improvement." Mike Cannon also is undefeated this season, and sits one win from his 100th career victory, fourth all-time at AU. Yet his ultimate goal—a national championship—remains squarely in front of him.
Such is life in the American University wrestling room, where a once downtrodden program is continuing its revival and raising expectations.
"I think everybody in our starting lineup now has the potential to take it to the next level," Coach Mark Cody said. "They're putting in the training time. I don't have anybody in this room that does not work hard. I've been to a couple other institutions this year, upper level programs, and was able to watch practice. I noticed the intensity level in our room was much higher than what I witnessed. They're to the level they need to be training-wise to be a great team, but they just have to get to that level mentally."
Cannon and Borshoff already are there. A two-time All-American, Cannon is ranked fourth nationally at 184 pounds. After going 3-0 at the Journeymen/BRUTE Northeast Duals on Nov. 28, he was named the GEICO American University Student-Athlete of the Week. He'll go for his 100th win when the Eagles next take the mat, Dec. 28 and 29, at the Midlands Championships.
"A lot of what he has done comes down to work ethic," Cody said. "He puts in a 12-month season. He's improved a great deal and I think basically it comes down to his commitment to the sport and his commitment to everything that he does in his life."
The week before, Borshoff won the award after defeating No. 3 ranked Lance Palmer of Ohio State at the 44th-annual National Wrestling Coaches Association All-Star Classic in California. It was the first time an AU wrestler ever competed in the prestigious event.
"For him to go out there and perform under those circumstances, in front of 8,000 people, was great," Cody said. "He was calm and cool the whole time."
Ranked third nationally in his 149-pound division, Borshoff had plenty of competition while growing up in Rochester, N.Y. The senior has two brothers, Jasen and Corey, who also wrestle for AU.

"I'm happy with the way I'm wrestling, but I definitely feel like there's room for improvement," Borshoff said. "I want to get a lot better before the end of the year so I can accomplish my goals. I want to win the national championship. As a team we're in a lot better place right now. When I came in my freshman year, not everyone on the team had the same goals and values that they should have."
That problem is ancient history. Now in his eighth season, Cody has succeeded in changing the culture of the program.

"We definitely have some guys on course to do great things at the end of the year," Cody said. "Our ultimate goal is to do well at the NCAA championships, and I think we have some guys who are as good as anyone in the country."