Communications
Grad Student's 'Geography of a Recession' a Hit on Boing Boing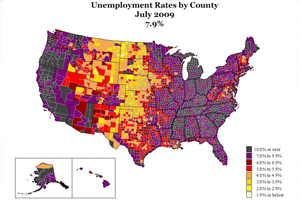 LaToya Egwuekwe is taking the Web by storm.
A graduate student in the School of Communication's (SOC) interactive journalism program, Egwuekwe created "Geography of a Recession," a Flash graphic that tracks unemployment rates by county since January 2007. The dramatic graphic is a viral hit, racking up more than 243,000 hits in less than a month.
A labor writer for the Machinist Union, Egwuekwe created the graphic for Professor David Johnson's multimedia class. She struggled with the assignment for several weeks, until inspiration struck.
"At my job, I work with these unemployment maps from the Department of Labor, which come out each month. Usually, you just compare the most current map with the previous one to show the change," explained Egwuekwe, who's also worked as a TV anchor and producer. "It just hit me: I wonder if there's a way to show the actual progression instead of just a before and after?"
After she turned in her project, she e-mailed the URL to her boss, who in turn sent it to the organization's entire membership. Since then, it's appeared on dozens of blogs and has zoomed to the top of Boing Boing, and other Internet sharing pages.
Egwuekwe also posted the graphic on YouTube, where it received 45,000 hits in just four days.
"I never intended for this to leave my laptop, so the reaction has been very surprising," she laughed.
"I think the job crisis hits home for a lot of people. Most of us know someone who's lost their job, and to actually see the progression is very devastating."
Though she graduates in May, Egwuekwe plans to stay with the Machinist Union, where she writes for the quarterly magazine, crafts speeches, and plans events.
"My calling is with the labor movement. I want to continue to serve as a voice for middle class families and working families," she said. "I feel like I'm just getting started."