Law
Law Students Witness UN CAT Proceedings in Geneva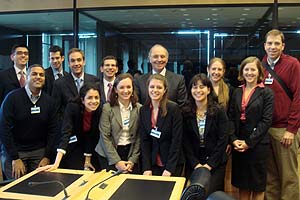 In November, 10 law students joined Washington College of Law dean Claudio Grossman, chair of the United Nations Committee against Torture, to witness the official committee session in Geneva.
Founded in 2004, WCL's UN CAT Project selects 10 students for a for-credit seminar with specialized readings and instruction on the prohibition of torture. The class is co-taught by Grossman and his special assistant and UN CAT project coordinator Jennifer de Laurentiis '92. Students research and synthesize vast materials concerning torture and human rights in pertinent countries, and draft  papers identifying potential compliance issues involving the operative treaty (the UN Convention against Torture and Other Cruel, Inhuman or Degrading Treatment or Punishment).
Pictured are this year's participants. In the back row, from left, are Adrian Alvarez, Howard Shneider, Skye Bougsty-Marshall, Ari Levin, Dean Claudio Grossman, Diane DeGroat, Carrie Garber, and Professor Stephen Vladeck.
In the front row are Professor Jayesh Rathod, Mahsa Maleki, Jennifer Norako, Rebecca Walters, Sarah Melikian.
UN CAT project coordinator Jennifer de Laurentiis is not pictured.