First Person
Road Warriors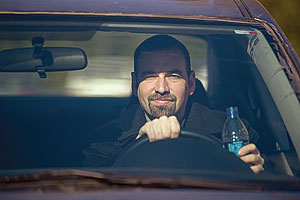 Eight hours into her drive home from work, Karen Connolly took a deep breath and reminded herself of a philosophy Confucian in its simplicity but difficult to recognize from the core of a seemingly infinite mass of cars crawling at a snail's pace.
"When you don't have any control over the situation, you just have to accept it," she said.
Connolly is one of several American University staff whose daily commutes routinely last longer than The Godfather. Granted, her epic nine-hour (roughly the length of the entire Godfather trilogy) ride home during an icy 2000 evening was particularly horrific, but for nearly a decade the senior treasury analyst has made the three-hour round-trip from her Fredericksburg, Va., home to Spring Valley.
"A lot of people think I'm nuts," said Connolly, who hits the road at 4:20 a.m. and leaves her office at 2:30 p.m. "I am a morning person. I am used to being tired, but no more than anyone else. My husband gets up and makes me coffee and sends me on my way. He's really sweet."
For Connolly and the other AU marathon-commuters, long hours on the road or train are a trade-off they're willing to make for a variety of family, economic, and lifestyle reasons. 
Ann Miller Lee, retail operating supervisor for the Katzen Museum Store, comes to Washington each day from Frederick, Md.
"For me to advance in my career, I knew I needed to get to D.C.," said Lee, who leaves her house around 5:45 a.m. for the 75-minute commute. "This is an amazing opportunity, so I just had to make a sacrifice and adjust my schedule."
Christopher Rael, director of development information services, has been making the daily drive from the Baltimore area since 2001. He now lives in Bel Air, north of Charm City, from where the 75-mile one-way trip can take anywhere from 90 minutes to three hours.
"You just never know," said Rael, who put 28,000 miles on his car one year. "You can have a cool morning, and the evening just [stinks]."
It's that unpredictability that often proves most frustrating, long-distance commuters say. It's why some, like Tanisha Jagoe, director of emergency and continuity management, opt to take the train (and subway, and bus, and . . .)
At promptly 6:15 each morning, Jagoe walks out of her Pasadena, Md., home and drives to the MARC station in Odenton. From there she takes the train to Union Station, hops on the Metro's Red Line to Tenleytown, transfers to an AU shuttle bus, then walks from Ward Circle to her New Mexico Avenue office.
"It gives me peace of mind," said Jagoe, whose combined monthly MARC and Metro fares total about $200. "If I need to do work, I'll do work. Or personal stuff. My commute allows me to decompress."
In the evening Jagoe often can't find a seat on the packed train. But when she gets back to her Chesapeake Bay-front community, she's always glad she made the journey.
"I moved out there because of the schools," she said. "I also live close to the water. We have a community marina and pier, so my weekends are really great."
The rat race that can be D.C. also was too much for Dave Wilson, who five years ago purchased a house in Harpers Ferry, W. Va.
"I had an opportunity to buy a piece of a mountain, so I did," said Wilson, a grounds supervisor at AU for 23 years.
He departs Wild and Wonderful West Virginia each morning at 4:45, flipping between traffic reports on WTOP and classic rock on satellite radio in his Ford pickup that's nearing 200,000 on the odometer.
At 2:30 in the afternoon he's on his way back to the mountains, stress fading with the traffic in his rear-view mirror.
"Once I get past Leesburg and get out into the farmland, it's just peaceful," said Wilson, who averages two and a half hours on the road each day. "When you get out into the rural part, to me it's soothing. It's not all hustle and bustle. It's beautiful."
Confessions of a Marathon Commuter
I feel their pain.
Of all the stories I've written in my five-plus years here at AU, this one might have been the most personal.
Toward the end of each of my interviews with AU's marathon commuters, I made an admission—I'm one of them.
It was almost like being in a support group: "My name's Mike, and my commute takes two and a half hours—on a good day."
Welcome Mike!
Ever since I started working here, when people hear that I live in Baltimore and drive to AU every day, they look at me like I'm a few fries short of a Happy Meal.
The one-way 40-mile trip can take anywhere from 60 to 150 minutes, depending on the weather, day of the week, astrological positioning, whether the groundhog saw his shadow. You get the picture: it's completely random.
By now I'm used to it. I know that I'll be able to persevere, even thrive, as long as I have three essentials.
As in any survival situation, nothing is more important than hydration. On the rare and catastrophic days I forget my bottle of water, it's amazing how quickly the thirst sets in just a few minutes into the trip. Dasani is my (wet) security blanket.
Next is my iPhone. You'd be surprised how much of the Post you can read, the number of e-mails you can check, and how many texts you can send while merging from I-95 onto the Beltway at three miles per hour.
Finally, and most importantly, is satellite radio. When I landed my job here in 2004, I immediately got Sirius installed in the 1991 Toyota Celica I was driving at the time. The radio was worth more than the car.
I've since upgraded vehicles and satellite units, but Sirius remains as indispensible today as it was then. In the mornings I tend toward the commercial-free jazz, blues, bluegrass, classic rock, Grateful Dead, and Bruce Springsteen channels. Heading home I generally prefer talk; NPR, ESPN, and I'll admit it, occasionally Howard Stern.
After a half-decade of trudging through traffic, I've come to realize that it's not as torturous as it appears. The morning commute gives me (ample) time to think about the upcoming day, while the evening one serves as a nice buffer between work and home.
For me, home is a little rowhouse I bought in 2002 for a price that begins with a "1"—a figure that would get me a parking space in Washington. Affordability is just one reason I love Baltimore, a city whose pace, personality, and unpretentiousness just feels right to me.
So each day I hit snooze (at least) once before six, and hit the road before seven. My heart sinks when it rains (lethal for traffic flow) and soars when schools are delayed for a light dusting of snow. I fill up my gas tank twice a week, get my car's oil changed every two months, and . . .
I could go on longer, but it's getting late and I need to head home. Got to beat the traffic.