On Campus
Washington Semester Welcomes Graduate Students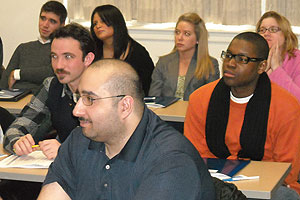 For the first time in its 63-year history, American University's Washington Semester Program is welcoming graduate students to its Tenley campus this semester.
The Graduate Gateway Program is a six-credit, one-semester program designed to introduce students to graduate school — and Washington.
"When we were conceptualizing the program, it came down to these principles," Washington Semester dean David Brown said. "First is for the students to test the waters for graduate studies. Second, it's a tough economy out there. There are many people who have graduated from college with no immediate job prospects. We thought, 'Maybe we can help.'"
Students enroll in one of five areas of study:
•  applied politics
•  history
•  communications and new media
•  global business
•  international affairs
In addition to their classes, each of the 40 students will have an internship for which they will earn one credit. At the end of the semester, they will be able to transfer six of their seven credits to a full-time graduate program, if they choose.
"The AU program attracted me because it offers an opportunity for me to earn graduate credits towards a master's degree as well as a chance to live and intern in Washington, D.C., one of the largest news and media outlets in the country," said Alyssa Mulliger. "I am enrolled in the Communications and New Media program this semester, and my courses include a journalism seminar and race, ethnic, and community reporting. I also accepted an internship with NBC News Washington for this semester."
The internship is one of the key components of the program. During orientation, Dean Brown stressed to the students the ways in which they already have a leg up on other internship seekers in a town that he said "couldn't run without interns."
"First, you're already a college graduate," he said. "You can intern three days a week, and when you're done, you don't have to leave them. You're available to stay and segue right into a paid job."
Brown offered his seven tips to a successful internship:
•  put in an honest days work
•  don't be the last one in or the first one out of the office
•  network
•  don't just be a good worker, be a good participant and observer
•  don't assume too much
•  say thank you
•  take your internship seriously, but don't take yourself too seriously
Sean Hembrick graduated from Binghamton University in May, and he plans to use his Graduate Gateway Program credits toward a master's degree in writing. He listened intently to Brown's words of wisdom and is looking forward to his months in Washington.
"AU is a great university rich in programs and history," he said. "What made the program attractive to me was the fact that it was located in Washington, D.C., which is the center of everything."