Student Life
AUpedia Relaunches on American.edu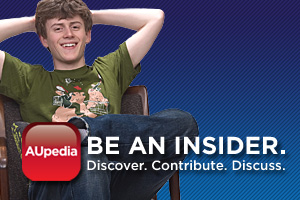 When it comes to many aspects of campus life, students know best.
What's the tastiest treat in the dining hall? When that after midnight craving for gooey, cheesy pizza hits, which place delivers the fastest? Which classrooms chill you to the bone, and which always are burning hot?
There's an online resource for learning and sharing this kind of information; facts, hints, opinions, and insider knowledge about life — every aspect of it — at American University.
Welcome to the new AUpedia, a user-generated content section of American.edu. Relaunched this week, AUpedia provides a forum for students, faculty, and staff to share their unique perspectives on AU.
"It gives you a completely different outlook," said sophomore Maggi LeDuc, who has posted AUpedia entries on everything from club sports to the community service center to the cafeteria. "People in the administration may know what food services are available, whereas I use it for breakfast, lunch, and dinner. I know Wednesdays are mac and cheese day, and you have to get there early."
That's the kind of insider info AUpedia is designed to divulge to current and prospective students. But it's available for faculty and staff as well, and several are looking forward to using it.
"I think it's a great idea," said Chris Palmer, a professor in the School of Communication. "For someone like me who's got things to say about a lot of different subjects, it's just the right forum."
Users must have an AU profile in order to post an AUpedia entry. Creating one online is a pain-free process, and the profiles can be personalized as much or as little as the user wants.
Once that's done, users can write their own AUpedia entry, comment on or edit an existing one. In this way, the tool works much like Wikipedia.
"Located on the third floor in Mary Graydon Center, MGC 303A and MGC 324 are both rooms that require special preparation for everyone attending or holding a course," reads one entry entitled "course attire." "While MGC 303A is known as the 'hot room,' with very intense heating in the winter and rather slow air conditioning in the summer, MGC 324 is known as the 'cold room,' with a very efficient air conditioning system. To adapt to the predetermined temperature in the class, students and faculty meeting in room MGC 303A should remember what parents like to tell their kids: wear multiple layers!
"It might well be that someone will be sitting in a T-shirt in room MGC although it's snowing outside. The same is true for room MGC 324: bringing a sweater or sweatshirt is never a bad idea."
In the spirit of social networking, AUpedia allows students with similar interests to connect.
"This year, several freshman in Anderson Hall played a number of sessions of a D&D campaign during their first semester," reads a post on the role-playing game, Dungeons and Dragons. "Great fun was had by all.
"Incoming AU students are encouraged to bring all their nerdiness along with them, as pockets of resistance to pop-culture thrive all over campus in the form of, World of Warcraft, Warhammer 40K, various TCG's, an ABUNDANCY of Wii's and Xbox 360s and of course — tabletop adventuring. In fact, a D&D club here at AU would probably be well-attended. For incoming freshman who fear their misunderstood hobbies might not be well-received by hall mates — reroll that will check! They will be."
While much of that is indecipherable to the masses, to Dungeons and Dragons fans it's a post full of welcoming words.
"The newly redesigned AUpedia will provide members of the AU community with a great tool to share information on the various aspects of the university," said Bernie Schulz, special assistant to the vice president in the Office of Campus Life. "We hope current and prospective students, faculty, staff, and visitors will turn to AUpedia to get the inside scoop on life at American University."
Scoops like this, from the Eagle's Nest entry.
"Many students may not be aware that you can find random items such as deodorant, mouthwash, toothpaste, cereal and other things that students may need for their rooms on campus. The Eagles Nest also serves fresh Krispy Kreme doughnuts everyday; if you have a sweet tooth, this is a great place to pick them up."