Athletics
Jones Records 300th Win in AU's Victory Over Holy Cross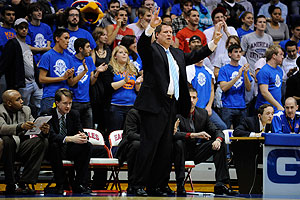 When the final horn sounded Jan. 23 at Bender Arena, American University men's basketball coach Jeff Jones walked off the court a winner for the 300th time in his 18-year head coaching career.
But minutes after the hard fought 71-64 victory over archrival Holy Cross in the annual "Phil Bender" game, all Jones could talk about was victory No. 2.
"This was our second [Patriot League win], so right now that's what I'm focusing on," he said. "Winning is great, but when I do get a chance to reflect, it's on the relationships I've had with the players and coaches."
This year has been a rough one thus far for Jones's team, an inexperienced group featuring only one senior. But Saturday the Eagles put together one of their most complete efforts of the season in beating Holy Cross before a raucous crowd of 2,743.
The annual Phil Bender encourages students to come out to support the team, and this year, the lively student section made its presence felt. And heard.
Junior forward Vlad Moldoveanu led all scorers with 20 points, while sophomore Stephen Lumpkins added 17 points and a career-high 15 rebounds. Lumpkins outrebounded Holy Cross's Andrew Keister, the conference's leader in the statistic, by eight, which was a huge key to AU's success.
Still, Holy Cross wouldn't bow easily. The Crusaders' outside shooting kept them in the game in the first half, which ended tied at 30. Each team shot 57 percent from the field.
In the second half, AU's defense buckled down, and the Eagles finally were able to build a slight cushion. Down the stretch AU missed several free throws that would have iced the game, but in the end, their rebounding advantage, energy, and intensity level proved to be too much for a spirited Holy Cross team.
AU and Holy Cross now are tied in the Patriot League standings, each with a mark of 2-3. The Eagles take the court again Jan. 28 at Bender Arena against Navy. Tip is at 7:30 p.m.
Jones, who coached the University of Virginia for eight seasons before coming to AU, will be going for win No. 301 against the Midshipmen, but more importantly to him, his team will be trying to notch conference win No. 3.
"My profession is a great one for many reasons," said Jones, whose 154 wins at AU make him the school's all-time winningest coach. "Winning obviously is important, but I think about it more in terms of the people than the numbers."