Student Life
SIS Student Catches Ride to Haiti with John Travolta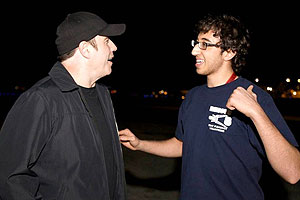 Inaction wasn't an option for Ari Katz.
The American University junior is a volunteer firefighter and former cadet in the United States Air Force Auxiliary Civil Air Patrol, so when he saw the horrific images of human suffering in Haiti following the devastating earthquake, he knew what he had to do.
That he would eventually catch a ride to the Caribbean nation as a passenger on Hollywood legend John Travolta's plane speaks to the 20-year-old Katz's stubborn persistence. After inquiring about joining the relief effort with a number of organizations only to encounter dead ends, Katz simply walked to the front door of the Haitian embassy on Massachusetts Avenue and knocked.
"I told them my situation, and they put me in contact with a woman who was putting together a trip sponsored by John Travolta," he said. "It took a little selling, but they eventually agreed that it was a good idea."
Katz boarded a plane from Reagan National Airport to Clearwater, Fla., where he disembarked carrying enough food and water for two weeks.
There, standing among 20 other volunteers, Katz was introduced to the pilot of the next leg of his journey.
"I don't know why, but I didn't really expect to meet him," Katz said. "But he made an effort to meet everybody there. He was a really nice, genuine guy. We talked about Ladder 49 a bit — I'm a firefighter, so I was curious about his experience with the movie."
Travolta piloted his personal 707 to Port-au-Prince, where he helped the volunteers unload their supplies. Once on the ground, the chaotic nature of the situation immediately struck Katz. The Haitian embassy had asked him to coordinate security and supplies, and secure shelter for a team of doctors (and later 18 water filtration systems), but with no agency seemingly running the relief effort, he had to freelance.
"What I had to do is go around, hang out with people and kind of talk up my projects," he said. "In Haiti, with all the donations and effort to get stuff there, there's no infrastructure for distribution. All this stuff is sitting at Port-au-Prince airport. Some of the boxes, no one even knows what's in them."
Katz managed to set up one team of doctors in a hostel and one in a soccer field, so he decided to venture out with another medical team to some villages surrounding the city. In these towns he treated Haitians using donated bandages, saline, IVs, scalpels, antibiotics, Tylenol, and ibuprofen.
"I was helping people not only with trauma issues from the earthquake, but also primary care issues that had been neglected for years and years," he said.
Particularly poignant was one encounter he had with a baby boy and his mother.
"He had an injured foot from the earthquake," Katz said. "The baby was crying, you could tell he was traumatized from the whole ordeal. The foot was draining puss. I didn't do much for this kid, all I really did was clean out his foot, bandage it and put some ointment on it.
"But the baby stopped crying, and you could tell the mother was thankful. I started tickling the kid and he started smiling again. It was incredible for the mother and the child to just get some relief."
Throughout his eight days in Haiti, Katz endured a rollercoaster of emotions. Despite the despair, he constantly was awed by the sight of children laughing and smiling. Yet moments later, he would encounter the realities of a country whose inhabitants are hungry and desperately poor.
It made his own personal hardships seem minute.
"I'm extremely glad I did it," the School of International Service student said. "I felt like I had to do something directly to help the Haitians. I figured the best way was to go over there and do something about it. I had a desire to interact, to get hands-on. I felt like I connected to it a little more than just seeing it on the news."