Environment
Recycle Mania Sweeps Campus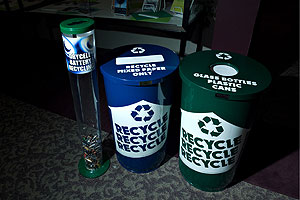 Recycle Mania began as a small-scale sustainability competition between two Ohio universities. One decade and tons of trash later, 608 institutions around the world —including American University — are facing off in the 10-week race to recycle.
"Universities are like small towns. Together, we can have a big impact" on recycling, said Sophia Benedicktus, an assistant director of operations for Housing and Dining Programs.
AU, which joins the recycle maniacs for the first time this year, is one of six District schools participating in the 10th annual competition.
Through March 27, the program will track recycling and trash data, and rank colleges and universities according to:
recycling rate as a percentage of overall waste generation
pounds of recycled materials per capita
pounds of municipal solid waste per capita
gross tonnage of recycled material
AU already recycles 43 percent of the solid waste on campus. However, a new waste and recycling contract will enable the university to more precisely track its recycling results.
"Lots of things that end up in the trash can be recycled," said Benedicktus, noting the recycling bins located in offices and residence halls make it easy for everyone to recycle if we remember to "think twice about what you're throwing away."
Recycle bins are marked for:
newspapers
magazines
aluminum cans
glass bottles
cardboard boxes 
A survey of past Recycle Mania participants showed that 80 percent of schools experienced a noticeable increase in recycling collection during the competition, with 510 universities and colleges recycling 69.4 million pounds of materials over 10 weeks in 2009.
Benedicktus hopes for lasting change at AU.
"The goal is to build education around sustainability," she said. "Ten weeks is enough time for people to start to change their behavior. We want people to continue to recycle, long after the competition is over. The most important thing people can do to help is to recycle."

Administered by the College and University Recycling Council, Recycle Mania results are updated weekly at www.recyclemaniacs.org.