Student Life
International Students Learn about Reverse Culture Shock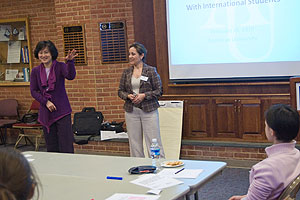 International students often expect to have culture shock when they come to the United States. But what about going home after graduation? It seems as if it would be easy. It's home, after all.
But returning home after years of studying abroad can bring with it another form of readjustment — reverse culture shock. Graduate student Holly McCandless, a part-time international student advisor, surveyed students who had returned to their home countries and used the results to develop a workshop for students who will soon make their own return journeys and want tips on how to readjust successfully.
Students at the pilot workshop had been in the United States as long as seven years. In some cases, they already knew their departure dates, and as they thought of starting a new life in their once-familiar home countries, they wondered if their friends would still relate to them (or if they'd relate to their friends), if they'd find jobs, and even how they'd adjust to using their native languages professionally after years of academic conversation in English.
Keum Choi of the Counseling Center and Senem Bakar, International Student and Scholar Services, presented along with McCandless.
Former international students who McCandless contacted for her survey not only knew about reverse culture shock, most still experienced it, she found.
Their top concerns included:
high expectations of family and friends — who might expect them to quickly parlay their AU degree into a high income
different perception of time, space, and appropriate self-expression.
According to Choi, reentering students go through stages similar to the culture shock they experienced when they first came to the United States.
the honeymoon stage — a kind of reentry euphoria, when everything seems delightful
disorientation — a period when small differences can be magnified into major aggravations
What's really happening is that time has passed. The city you grew up in is not quite the same; friends have adjusted to being without you, gone on with their lives and may seem to have little time for you now and little interest or understanding of the changes you've experienced.

The good news
In time, the disorientation will give way to adjustment, acceptance, and acculturation. "It's OK to be a little bit Americanized," Choi said. "You'll think, 'Here's me, from my country of origin; but here's my new sense of self that is growing. I can be both.'"
The student participants took part in small group discussions where they identified their concerns and came up with strategies for addressing them. They also went home with a Re-Entry Guide for International Students developed by ISSS.
"Anticipating all of this helps," said Vera Bossell, an MA candidate in psychology, who expects to graduate and return home to Germany in May.
Pamela Fernandez will be back in Honduras within the month. She's concerned about the adjustment — how, for instance, will she retain her choice to be vegetarian in a culture not accustomed to vegetarians — but she's also looking forward to "readjustment trips" to the beach.
As the SOC graduate in visual media said with a grin: "I'll be the annoying one on Facebook updating everyone on how it's 90 degrees in Honduras."