Government & Politics
AU Hosts Second-Annual Eisenhower Symposium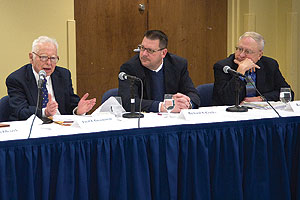 A half-century after Dwight Eisenhower left the White House, what lessons for the twenty-first century can be learned from his relationship with Congress?
That was the central question of the second-annual Eisenhower Symposium, held at American University on Feb. 19.
An all-star panel of scholars from throughout the country presented papers on the subject at the conference, cosponsored by the School of International Service, Center for Congressional and Presidential Studies, and the Eisenhower Institute.
SIS was founded after then-AU president Hurst Anderson acted on Eisenhower's call to incorporate human-focused international affairs into higher education. President Eisenhower spoke at the school's groundbreaking in 1957.
"It's no coincidence that the School of International Service has hosted the first two Eisenhower symposiums," SIS dean Lou Goodman said. "The school has so much of Eisenhower's vision in it. There are so many things about the life of Eisenhower that we would do very well to remember today."
Throughout the day, Eisenhower's willingness to work across party lines—admittedly, in a much less politically polarized climate than exists today—emerged.
"The Eisenhower style cultivated inattention to the political side of the job and played up the more nonpolitical head of state style of the presidency," said Fred Greenstein, professor of politics emeritus at Princeton University, whose books include The Hidden-Hand Presidency: Eisenhower as a Leader. "He had an impulse toward system."
Greenstein was joined on the morning panel by Richard Conley, an American and comparative politics professor at the University of Florida, who spoke about Eisenhower's presidential signing statements; and Roger Davidson, professor emeritus at the University of Maryland, who spoke about Eisenhower and depressed-areas legislation of the late 1950s.
"Eisenhower revered the legislative branch in a way that is perhaps lost these days when presidents feel they can challenge and even subvert the legislative branch," Conley said. "He lauded bipartisanship, and you don't see that today."
The keynote address, "What Congress Looked Like from Inside the Eisenhower White House," was delivered by Stephen Hess, senior fellow emeritus at the Brookings Institution.
In the audience, two men listened with unique firsthand perspective. Among them, Bradley Patterson, who served as Eisenhower's deputy cabinet secretary from 1954 to 1961.
The afternoon session featured AU professor Jordan Tama speaking on Eisenhower, Congress, and foreign policy; and Stephen Wayne, professor of government at Georgetown University, who presented "The Eisenhower Administration: The Bridge from the Personal to the Institutionalized Presidency."
James Thurber, director of the Center for Congressional and Presidential Studies, began the day by praising Eisenhower's sometimes criticized governing style.
"Eisenhower conducted himself with restraint, but when duty demanded, he took dramatic steps," he said.