On Campus
SIS Building Takes Shape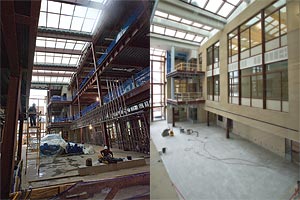 What a difference five months makes. 
On Sept. 17, left, the new SIS building was still a hard-hat zone, but on Feb. 17, right, AU's green gem was beginning to take shape. Workers are finishing up the terrazzo floor in the atrium and, once the snow melts, will begin installing the solar panels on the roof. Soon, they'll lay carpet and apply the final coat of paint.
Outside, the basic grating for the landscaping will begin shortly. And on March 8, an artist will craft a sculpture with rocks from the excavation. The sculptor, who anticipates completing the masterpiece within three days, will work on the site of the new building.
The 70,000-square-foot, environmentally-friendly building is slated to open May 9. Check out the SIS Web cam to track the progress.