Athletics
Hall of Famers, Senior Wilson to be Honored at Hoops Game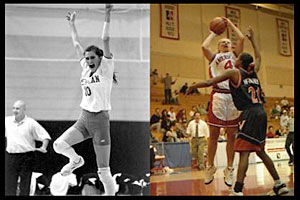 Saturday Feb. 27 is shaping up to be a big day at Bender Arena.
Three hours before the men's basketball team takes the floor for its final regular season game, American University athletics legends, basketball's Mary Klima and volleyball's Vendula Kurcova, will be inducted into the Stafford H. "Pop" Cassell Hall of Fame. The luncheon and ceremony take place at the Mary Graydon Center.
Then, prior to the Eagles 4 p.m. tip-off against Lafayette, guard Matthew Wilson will be honored during the team's annual senior day. The Eagles' lone senior, Wilson is majoring in business administration. At halftime of the game, Klima and Kurcova will be recognized on the court.
Klima was a standout member of AU's 1998 team, the first women's basketball team in school history to reach the postseason. The most prolific rebounder in university history, Klima's 881 rebounds is a school record, as are her single-season mark of 304, and 24 in a single game.
She is the third-leading scorer in AU history with 1,477 points, and holds the second highest single-season total with 533 in the 1997–98 campaign. Her 17.8 average points per game during the 1997–98 season is the third-highest average in school history. Klima shot an impressive 49.3 percent from the field in her career, placing her eighth on the all-time list.
Kurcova was a dominant force during her reign on the Eagles' volleyball squad from 1995–99. She led the team to back-to-back Colonial Athletic Association Championships in 1997 and 1998, the first conference titles in school history. Additionally, AU earned the school's first ever appearances in the NCAA Division I Women's Volleyball Tournament during these seasons.
Kurcova was a three-time Academic All-America pick, earning first team honors in 1997 and second team recognition the following season. She was also a three-time All-CAA conference selection, earning first team honors twice. Currently, Kurcova ranks fourth all-time in school history in kills with 1,568, fifth in kills per game at 3.50, and sixth in digs with 942.