International
All AU Students in Chile Accounted For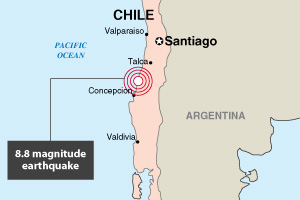 All 14 American University students studying in Chile are safe after a massive earthquake rocked the South American country Feb. 27.
Washington College of Law dean Claudio Grossman, a native Chilean who often travels to the nation, was not there at the time of the quake.
Thirteen of the 14 AU students spending this semester in Chile attend Universidad Diego Portales in the capital city of Santiago. Damage to that part of the country was minimal, and classes are expected to resume at the university on March 2, said Brita Doyle, AU's study abroad advisor in charge of Latin America.
"On Saturday morning we started trying to contact all the students," she said. "By late morning we had confirmed the whereabouts of all the students. There was a group of four or five who were together out at a nightclub. At first they thought it was some weird special effect at this club. They ended up getting in a taxi and going home. Many of them live in the same neighborhood. They've all experienced trouble getting on the Internet because some parts of Santiago are without power. But they're all fine."
Marisa Kendall was one of the students at the club. In a story published in the March 1 Eagle, she recounted the moments immediately following the 8.8-magnitude quake.
"After about a minute, the shaking stopped and everyone rushed down the stairs and out of the club," she wrote. "The street outside was complete chaos, with people screaming and running in all directions. I was separated from my friends, so I started pushing my way through the crowd trying to find them. At one point, I tripped over someone's foot and had to be helped up by a couple of Chileans."
Kendall, like all the AU students in Chile, lives with a host family. She eventually made it back to their house, where she sat around the kitchen table with her hosts drinking juice by flashlight.
Doyle herself studied abroad in Chile when she was an undergraduate, and she said earthquakes are a part of life there.
"They have earthquakes all the time, so they have really strict building codes," she said. "Their buildings are built to withstand it. I remember in my orientation students were told what to do in the event of an earthquake."
By Monday authorities had placed the death toll at more than 700, but experts said considering the strength of the quake, the tragedy could have been much worse.
"We would have expected that an 8.8 earthquake would have done a lot more damage," Paul Caruso, a geophysicist with the National Earthquake Information Center in Golden, Colo., told the Washington Post. "The people in Chile have experience with earthquakes that saved hundreds if not thousands of lives."