Achievements
ACLU Honors WCL Dean Grossman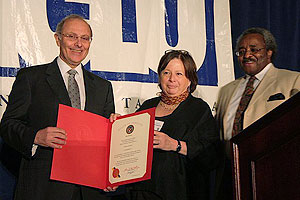 A staunch advocate of domestic and international human rights, Washington College of Law dean Claudio Grossman was honored by the American Civil Liberties Union of the National Capital Region, March 18.
Grossman received the Henry W. Edgerton Civil Liberties Award at the organization's 47th annual Bill of Rights Dinner.
"More than a personal recognition, I consider this award an affirmation of the need to work relentlessly to eradicate torture," said Grossman, who serves as chair of the United Nations Committee against Torture (UN CAT). "Achieving this vital objective is possible, but it depends on all of us."
As one of the most proactive UN CAT members, Grossman has participated in fact-finding missions and decisions involving extraordinary renditions, the duty to investigate, reparations, and the prohibition of non-refoulement, as well as visits in loco, and has served as rapporteur or co-rapporteur for numerous countries, consistently stressing the absolute nature of the prohibition against torture.
Grossman has also served as a member of the Inter-American Commission on Human Rights and has argued cases before the Inter-American Court on Human Rights. He's worked on international legal issues with the United Nations and the International Human Rights Law Group.