On Campus
New SIS Sculpture a Mineral Masterpiece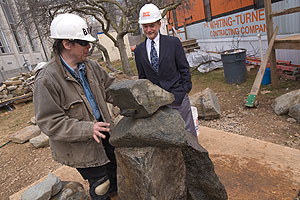 Most people don't give much thought to rocks. But for Brooklyn-based sculptor Adam Distenfeld, the mineral formations are masterpieces, just waiting to be unearthed.
Distenfeld is the artist behind the inukshuk—a Native American stone landmark—that graces the atrium in the new School of International Service. The sculpture is in keeping with the building's environmentally-friendly aesthetic, as it was constructed with rocks from the excavation.
AU's 70,000-square-foot green gem will open its LEED gold certified doors in May.
"On a construction site, rocks are viewed as obstacles to development, but I see a beautiful work of art," said Distenfeld of Brooklyn Rock Werks.
The sculpture, which was created on site in early March, features five huge rocks, "married" with stainless steel rods—nearly invisible to the naked eye. Water trickles serenely down the rocks.
"It looks like it's a bunch of rocks working together to make a whole," explained Distenfeld. It's symbolic "of all people coming together to make the world go round."
Distenfeld originally worked with wood, but switched mediums after earning his MFA in 1998. Rocks are more durable, he said, and can hold great significance.
"We go to the beach and find a nice stone and take it home. Every time we look at it, we remember that moment at the beach," he explained. "All sculpture is a place marker, but rock is really a plate of memories."
Distenfeld said he hopes SIS students, faculty, and staff will make their own memories around the inukshuk.
"I'm one of the luckiest human beings in the whole world: I love what I do. I was working in the rain [at AU] and I was happy, just because I enjoy what I do. And I hope others enjoy it, too."