International
SIS Grads Who Became Ambassadors Share Insights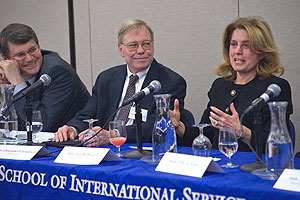 Five School of International Service alumni who have served as ambassadors to Togo, Zambia, Chad, the Marshall Islands, Paraguay, and Costa Rica discussed what it take to rises to the rank of ambassador with eager students on March 18.
The consensus was that this is a good time to enter the State Department with the Obama administration funding around 3,000 new positions — "numbers you're not going to see in the future."
How to make it happen?
"As Dean Goodman said, there are many paths, and flexibility is a good thing. Qualifications and skills vary by country, but the core is being able to think through problems," said Christopher Goldthwait, SIS/BA '71, former ambassador to Chad, who began his career with the Foreign Agricultural Service of the Department of Agriculture.
"It takes skill, luck, and in some cases, having the right friends in the right places," said Curtin Winsor, SIS/MA '64, PhD '71, who served as ambassador to Costa Rica.
David Dunn, SIS/MA '74, underscored flexibility. He focused on Western European studies at AU but got "bit by the Africa bug" and ultimately served as ambassador to Zambia and Togo.
 A large social element runs through the work since ambassadors need to build relationships throughout their careers no matter where they are in the world.
Keys are a desire to serve the country and an ability to represent the American point of view on policy — regardless of your personal opinion.
"Select as your roommate a future president of the U.S.," quipped Joan Plaisted, SIS/BA '67, MA '69. The joke gently underscored a reality in the field: around a third of ambassadors are political appointees. Yet most, like Plaisted are career officers. She was ambassador to the Marshall Islands and Kiribati, acting ambassador to Morocco, and is now senior advisor for East Asian and Pacific Affairs to the United Nations.
A resounding "yes," emerged when Plaisted noted that "for a successful foreign service career you have to speak and write well."
Practice working the room
The SIS alumni slipped comfortably into the familiar role of ambassador as they greeted students, learning of their interests, internships, and plans.
Students also heard about some startling changes that have occurred in the foreign service since most of the panelists were at AU.
Until the 1970s, spouses were viewed as unpaid but important social accessories whose performance was also evaluated in the husband's efficiency report.
Clyde Taylor, SIS/MA '61 and later ambassador to Paraguay, entered the foreign service in a group that included only two women. Now about half of entering officers are women, "so a lot of the spouses are he-spouses," he quipped. Today, male officers often have wives who want to work at their professions overseas, while also serving in the unpaid role of hostess.
Information technology, instant communication, the multiplicity of U.S. government agencies overseas, and security issues round out the list of changes. There were always dangerous posts, the former ambassadors noted–recalling bomb threats, landing on death lists, including being stalked by a Libyan hit man. However, about 1,000 of 3,500 posts worldwide are now unaccompanied, meaning they've been designated too dangerous for families.
There is a lot of pressure today to take posts in Afghanistan and Iraq, which come with significant career benefits to encourage their being filled voluntarily — but this adds to a skewed demographic in the foreign service, since officers with young children or aging parents are less likely to apply.
To get a foot in the door, the ambassadors advised the students not to overspecialize initially, to consider going into fields that aren't currently fashionable, and not to be discouraged if they don't initially pass the foreign service exam. Many people, said the group--even some future ambassadors — have taken the exam more than once before succeeding.
And take advantage of your time at SIS said Taylor, "You are all at a very good place."