Research
College of Arts and Sciences' Research Conference a Success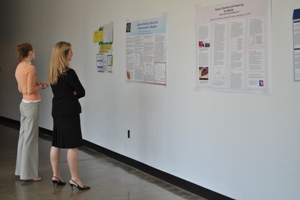 The College of Arts and Sciences' 20th annual Robyn Rafferty Mathias Research Conference was the school's biggest ever.
With 238 student presenters and 43 faculty judges, the March 20 event dwarfed previous installations in size.
"Every year I think the faculty prepare for it more and prepare their students more and more," said Michael Manson, CAS academic affairs administrator.
The event is set up like a traditional academic conference, only the students have less time to present, Manson said. Each student is sponsored by a professor, and the event is open to any major as long as the research stems from a CAS course.
"Undergraduate and graduate research are really one of the things that characterize the college," said Mary Schellinger, assistant dean for program development. "It gives people a place to showcase their research. The majority are really very in-depth. Some people go on to publish it. It really gives them an opportunity to get into that process and figure out how research affects lives. Also, they get the kind of satisfaction that comes from doing research well and presenting it in front of their peers and faculty."
Cash prizes were made possible by a donation from Rafferty, an AU trustee and alum who worked as a principal in Montgomery County Public Schools. They were awarded to the following student winners:


Best Humanities Paper by a Graduate Student (split award)—
Hoc Est Corpus Meum: The Madonna della Candeletta and Monastic Memoria, Tiffany Meadows, MA candidate, Art History

Fusión Pura: The Aesthetic Possibilities and Social Implications of Arab-Flamenco Fusion Music in Southern Spain, Laura Smith, MA candidate, Arts Management

Honorable mention: Functional Uses of the Modals of Possibility and Permission in Standard English Varieties of England, Scotland, and the United States: A Study in Dialectal Variation, Ingrid Beiler, MA candidate, TESOL


Best Humanities Paper by an Undergraduate —
The American Philosophical Society and the Indian Question: Race and Science in Early America, Ryan Tanner-Read, Senior, History and Literature


Best Performance —
Architectural Variations, Heather Goodman, Senior, Music and Communication: Film and Media Arts


Prize for Best Natural Sciences Paper by a Graduate Student (split award) -
Sulfides and Thioesters: Synthesis and Evaluation of Suitability as Antimicrobial Pro-drugs, Tim Beck, Certificate Student, Postbaccalaureate Premedical

Layering Audio Files for Use with Variable Bandwidth Utilizing Incommensurate Sampling Rates, Erik Taubeneck, MA candidate, Mathematics


Prize for Best Natural Sciences Poster by a Graduate Student -
Fat-related Pathways and Novel Treatments for Multiple Myeloma, Peter Roehrich, MS candidate, Biology


Prize for Best Natural Sciences Paper by an Undergraduate -
A Star on Campus: Production and Confinement of Plasma, William Flynn, Senior, Physics & Mathematics
Brian Kelleher, Junior, Physics


Prize for Best Natural Sciences Poster by a Junior-Senior (split award)-
Species Delimitation of Two Nemertean Worms: Effective Application of DNA Barcoding, Andrew Frank, Senior, Biology

Modeling the Growth of U.S. Sovereign Debt, David Menasche, Senior, Physics

Honorable mention: Synthesis of Novel Beta Lactams as Antibiotics and Neuroprotectives, Cherie-Ann Richards, Senior, Biology


Prize for Best Natural Sciences Poster by a Freshman-Sophomore (split award) -
The Advantageous Components of L-Dopa and Dopamine in Squid Ink, Laura Flynn, Sophomore, Biochemistry and Mathematics

Distributions and Biogeography of Hydromedusae, Gabrielle Labove, Sophomore, Environmental Studies


Prize for Best Social Sciences Paper by a Graduate Student -
Indigenous Peoples and Tropical Biodiversity: Adaptive Behavior among the Wachiperi of the Peruvian Rainforest, Rodolfo Tello, PhD candidate, Anthropology


Prize for Best Social Sciences Paper by a Junior-Senior -
Framing the Public Fetus: Sonograms and Ultrasounds in Crisis Pregnancy Centers, Lisa Plotkin, Senior, History and Women's, Gender, and Sexuality Studies


Prize for Best Social Sciences Paper by a Freshman-Sophomore -
Sinking the Pearl of the Indian Ocean: Climate Change in Sri Lanka, Mohamed Baba, Sophomore, Undecided