Research
SIS Undergraduates Present Research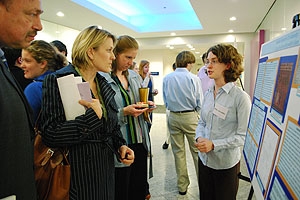 For 13 years, undergraduates at the School of International Service have been able to do something that is usually the purview of graduate students or professors: present their original work in a research symposium.
This year, 40 students — an unusually large group — presented on topics that ranged around the world.
In some cases, the students had done original research abroad, like Trent Buatte, who traveled to Marseille, France, for a month on a Summer Undergraduate Research Fellowship to pursue his question: "Why, when immigrant communities across France were engulfed in riots in 2005, did the city with France's largest number of immigrants remain peaceful?"
It was a question that no scholars had answered to his satisfaction. So he interviewed North African immigrants, religious leaders, police officials, and many others to come up with his own conclusion.
Not everyone, of course, could make a research trip to their area of interest. Andreana Lefton examined two metropolises divided by walls: Tijuana and San Diego, and Bethlehem and Jerusalem. The talented senior analyzed the voices of artists, activists, and citizens on new media Web sites — in English, Spanish, Arabic, and Hebrew — to gain clues to what she calls "the creation of emergent of 'new space' at the relationship boundary" and what it tells researchers about urban conflict.
"I don't happen to speak all these languages, so I enlisted the help of friends who do," said Lefton, having clearly found another advantage to being in AU's international environment. Lefton's presentation, which drew on chaos theory, human geography, and urban development, impressed the faculty members gathered at the panel with its sophistication.
Participating in the symposium can be educational in itself. "I felt so intimidated at first that I forgot the first half of my presentation," recalled this year's program chair, junior Gunperi Sisman, about the time she presented as a freshman. A little first-year awkwardness, though, soon gives way to polished presentation skills.
Yamille Guerrier used the symposium as an opportunity to gain feedback on research she's conducting on NGOs in Haiti. "It's very helpful to speak and get feedback mid-project, and presentation skills are always a plus to have," said Guerrier, a senior.
"I definitely have a lot of questions in my head about why sustainable development is not happening. I think I'll spend the rest of my life trying to answer that," she said. "This is what I came to SIS to do."
Three students were named as winners for their research:

Buatte, for "Space, Race, and the City: How Marseille Survived the 2005 French Riots"
Regan Alsup, freshman, for "Compassion Fatigue: How News Media Coverage Affects the Public's Reaction to International Disasters"
Laura Anderson, senior, for "Dictatorship to Democracy: How Indigenous Movements Affect New Republics"