International
Obama Advisor Details Issues That Will 'Shake the World'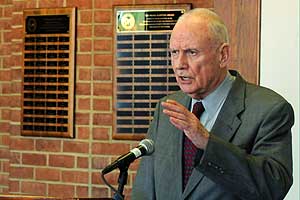 The foreign policy challenges facing the United States are formidable and urgent according to lifelong public servant and trusted Obama advisor Lee Hamilton, who spoke at the School of International Service, March 31.
With so many things going on in the world, "it can be difficult to keep your balance and perspective," explained Hamilton, president of the Woodrow Wilson International Center for Scholars and former Indiana representative from 1965 to 1999. "Sometimes it's helpful to push aside the books and papers, look out the window and just think about the issues that are going to shake the world for the next couple decades."
According to Hamilton, cochair of the Iraq Study Group and vice-chair of the 9/11 Commission, those issues include:

Nuclear proliferation. "We're at a crisis point," he said. "This is the paramount challenge of American foreign policy because the consequences are so overwhelming."
Global economy. We must support responsible globalization, protect the world's most vulnerable populations, and stimulate demand, especially in the private sector, Hamilton explained.
Environment. The greatest foreign policy failure is the inability to develop effective energy policy, Hamilton said. "People get caught up on one solution or another — we've got to try all of them."
China. The United States' relationship with China is "by far, the most important bilateral relationship in the world today," he said. "That cooperation is enormously important."
Cyber security. A cyber attack on America's water, electrical, or transportation system could cripple the country. "These are formidable and relatively new challenges for us," Hamilton said.
Terrorism. "There are wars to be fought, there's a homeland to be defended, and there are minds to be won," he said.
While these issues are "staggeringly complex," Hamilton, who serves on Obama's Homeland Security Advisory Council, said the president is up to the challenge.
"Obama understands that to act forcefully abroad, you have to have strength at home," said Hamilton. "He seeks to nudge, encourage, persuade, and appeal to get results . . . and favors talking to other governments even if he doesn't agree with them.
"I think he's learned how tough the global problems are," Hamilton continued. "They go back not years, but decades in most cases . . . and things are only going to get harder. The only certainty is that the president will be tested for sure."

Hamilton's lecture was sponsored by SIS's U.S. Foreign Policy program.