International
State Undersecretary: U.S.  Foreign Policy Is Changing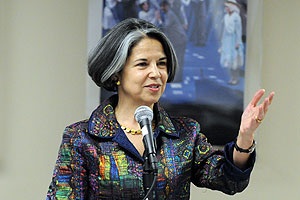 Maria Otero was on her way home from an AU basketball game when she received a voice mail from Hillary Clinton. The secretary of state was offering her the post of undersecretary of state for democracy and global affairs.
Otero accepted, and for the past eight months, the longtime development leader has overseen U.S. foreign policy on democracy, human rights, the environment, health, population, refugees, human trafficking, and other global issues.
The microfinance pioneer and former president of ACCION International comes not from the usual channels of the diplomatic or political world but from international development.
She outlined the Obama administration's priorities for AU students at the sixth annual International Development Program Spring Public Lecture, and described ways that her immediate supervisor, Secretary Clinton, is changing the culture of the State Department.
Development, Otero said, is being incorporated into every element of foreign policy. "We are elevating international development in a way that's never been done before," she said.
It's a moral imperative, and also a matter of security. Terrorism won't be defeated, she said, if hundreds of millions of young people—a third of the world's population—see no chance of leading productive lives or of improving their lives.
Otero's broad portfolio is unified by the idea that peace and prosperity flow from empowering individuals. That notion spreads to the way development is being conducted by the Obama administration, she said.
The focus is on creating partnerships, not issuing edicts. "It means not having U.S. experts take the lead," but emphasizing shared responsibility.
This is also the first time the State Department has been given the mandate to focus on women as a major pillar of development, Otero said.
"There's no actor more reliable or more determined than a mother, a sister, a daughter, and a wife," said Otero, whose long experience in microfinance made her familiar with the central role that women play in the economic lives of families and communities in developing countries.
Women can be key players in numerous aspects of development—the economy, health, education, forest use—yet they are more likely to suffer from lack of development than men. Women most often lack access to health care and education, and are most likely to end up in refugee camps, she noted.
She told the students of the lessons she's taken from the world of development to the world of the State Department:
Long-term success depends on local buy-in. For instance, you can build a school, but the walls will crumble and won't get fixed if local people have no sense of ownership.
Solutions must draw from many disciplines. "Innovation occurs when worlds that are newly connected," she said. Perspectives shift, bottlenecks open, and new and unexpected combinations arise. For example, "social entrepreneurship" and "corporate social responsibility" have gained currency, but in earlier times would not have been conceived.
Development must focus "on models that can grow." Ideas that make a real difference can be replicated to serve not just a few people, but tens of thousands.
"I want to encourage you to continue studying development," she said in closing. "Together I think you will be able to achieve a peace based on justice and right, which is what SIS was built on."
Otero, in addition to her work at ACCION International, has served on the U.N. Advisors Groups on Inclusive Financial Sectors, has chaired the board of Bread for the World, and served on the boards of the Calvert Foundation, Public Welfare Foundation, the Inter-American Foundation, and BRAC Holding of Bangladesh. She was selected by Newsweek in 2005 as one of the 20 most influential women in the United States.