Alumni
April Breezes Send First Senior BBQ Indoors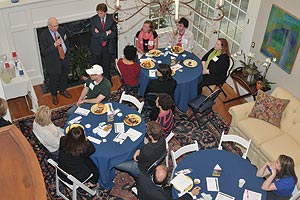 Pulled pork, chicken sandwiches, potato salad, and baked beans were on the menu at the School of Communication senior barbecue at the president's house on April 12. 
"This is the first year that we've held these barbecues," said director of Alumni Programs Tara Lang. "We specifically invited key members of the Alumni Association to all of the barbecues so that the students can hear firsthand about the alumni experience that awaits them."
A barbecue will be held for seniors from each school. SIS is April 20, at 4:30 p.m.; Kogod is April 21, at 3:30 p.m.; SPA is April 21, at 5:30 p.m.; CAS is April 22, at 3:30 p.m. and 5:30 p.m.
Seniors can register here to attend.