Athletics
Lacrosse Team Controls Its Own Destiny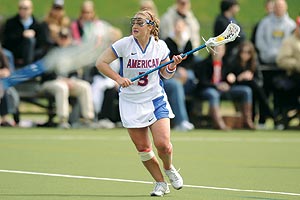 It's all there for the taking.
The AU women's lacrosse team laid out a number of goals before this season, not the least of which was making it back to the Patriot League Tournament.
Saturday is the day of reckoning for the Eagles. A win over Holy Cross means a berth in the conference tournament, a loss and the season is over. 

"It's really great for us to know we can control whatever happens to us," said Amanda Makoid, the team's leading scorer. "We've been able to step up in the Patriot League this season."
Makoid was one of five seniors honored before the Eagles' 10-4 victory over Davidson on Sunday. The quintet is a special one to coach Katie Woods, who took over the program four years ago.
"I didn't recruit them, but they really bought into the system from the first moment they were here," Woods said. "They've done a really good job, even as sophomores and juniors, of being good leaders. We have huge holes to fill next year."
Makoid, Lisa Schaaf, Maeve Koch, Alyssa Romano, and Frankie Solomon bring unique attributes and attitudes to the team, Woods said.
"Each of them is going to be missed," she said. "Amanda in her ability to be the fighter that always competes. Alyssa is our leader on defense. She's been in there starting since her freshman year. She's a rock back there. Lisa had an injury last year, so she's getting her groove back on to the attack. She is definitely somebody that works really hard.
"Maeve came in as a goalkeeper and is now a midfielder. She brings that feisty, hustle mentality. She comes up with big plays right when we need them. In the past couple of years there are games where she grabbed the momentum for us and got us the win.
Frankie has done really well. Comparing her to her freshman year as a goalie she's taken her game to an entirely new level, which is awesome to see. She has a much stronger mentality."
The five have experienced ups and downs throughout their careers, which have included winning the Patriot League regular season title in 2008 but missing the conference tournament last season.

"I've had the chance to compete for two Patriot League championships, and we're hoping our third will be this year," said Makoid, a business major who plans to attend law school in the fall. "Division I sports in general is something not everyone gets to experience, and it's been extremely challenging and extremely rewarding."
Makoid and her teammates are hoping the pinnacle of their careers is yet to come. The season started off roughly for the Eagles, who dropped three of their first four. But once league play started the team began to click, forging to a 3-2 record heading into Saturday's tilt against Holy Cross.
"They're learning," Woods said of her players. "Every game there's a different thing they learn, which is great, but now they have to carry it with them and not keep learning the same lesson."
Makoid's game, in particular, has developed as the season has progressed. She leads the team in goals and several times, as in a tough loss to Virginia Tech, recorded key ground balls. But personal achievements have taken a back seat to helping push her team to a league crown in her final go around.
"I think the most important thing for us is jelling in transition," she said. "Getting the ball from the defensive to the offensive unit smoothly without turning the ball over."
AU knows its game plan; with its destiny in its own hands, all it has to do now is execute it.