Research
Honors Capstone Bigger—and Better—Than Ever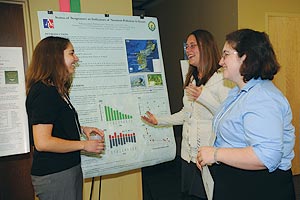 Scan the list of subjects presented at the seventh-annual Honors Capstone Research Conference on April 14, and it's evident that this event has grown by leaps and bounds since its first days.
Forget for a moment that 85 students applied, but only 40 were accepted to present at the Honors Program's largest-ever conference.
"The topics were incredibly diverse," said Professor Michael Mass, the program's director. "We had a student who wrote a play; we had another who created a stop animation with Legos, the purpose of which is to teach Mandarin. These things are amazing."
Other subjects included the "Disneyfication of Stone Mountain," a look at autism in literature, and a study of the effects of microfinance on women's empowerment in Zimbabwe.
Twenty students were given roughly 15 minutes each to orally present their papers, studies, or projects. In addition, another 20 made poster presentations during the lunch hour.  All five of the undergraduate schools were represented, and the students were judged by a panel of faculty and alumni.
The six winners will be recognized during the honors convocation on Friday May 7.
"The university broadly believes that undergraduate students are not just there to soak up knowledge, but are full participants in the process of the creation of knowledge," Mass said. "The future of this is only going to get better. One would hope that from the moment they get here, students will be thinking about research."
The winners were:
Peggy Wu (SIS) — "Ming Bai: Say Bye to Confusion, Ni Hao to Understanding"
Trent Buatte (SIS) — "Space, Race, and the City: How Marseille Survived the 2005 French Riots"
Aaron Barnard-Luce (SPA) — "Opting In or Staying Out: Comparative Institutiona-lization of Regime Opposition Groups and Its Effects on Mobilization Strategies"
Sarah Brown (CAS/SIS) — "African Women's Movements: Toward a Feminist Conception of Security, Citizenship, and Nationhood"
Abigail LaBella (CAS) — "Allometry and Insulin: The Insulin Receptor Pathway and Its Contribution to the Development of Allometry in Beetles"
William Flynn (CAS) — "Effective 4- and Higher-Body Interactions of Neutral Bosons in Optical Lattices"