Communications
WAMU's Fearless Leader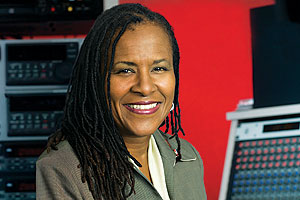 Public radio itself—let alone WAMU 88.5—has changed drastically since Caryn Mathes arrived in Washington five years ago.
Back in March 2005, when Mathes took over as the station's general manager, WAMU had a budget around $7 million and about $350,000 in the bank. Today the budget has doubled, and that bank statement is eight figures.
The financial improvement has been a monumental achievement, but it may not even be the finest feather in Mathes's cap. When she arrived in the nation's capital after serving as general manager of WDET in Detroit for more than two decades, radio was changing.

It was her job to ensure WAMU evolved with it.
"I think it's telling that when you look at our mission statement and vision statement, the word radio isn't mentioned," she said. "We're a content provider, a discussion conveyer, an information disseminator, and a knowledge builder.
"One of the challenges that's an underpinning to everything we do is we need to position ourselves for the day when the terrestrial signal is not the primary portal where people find us," she said. "Already we're doing streaming and podcasting and we've dabbled in direct-to-cell phones. You never know where your next audience is going to come from, so we've had to pull together resources to be on every new platform as it develops. One of these days people are going to discover our content in other ways than radio."
For years WAMU has boasted a strong lineup of on-air talent like the nationally syndicated Diane Rehm and local institution Kojo Nnamdi. But when Mathes arrived the station was under the direction of an interim general manager, and the state of flux had taken its toll on staff morale.

"The hardest thing to change was the culture," she said. "As enthusiastic as the staff was, when you've had management under siege, and then interim management, things can get a little tattered around the edges. One of the toughest things to turn around was the kind of close-enough-is-good-enough attitude."
Having spent the majority of her career in the Midwest, Mathes's style didn't always mesh with Washington culture, which apparently was just what the doctor ordered.
"Caryn Mathes is a manager's manager," Nnamdi said. "She's a policy wonk, a nerd with numbers, a programming junkie, an excellent communicator, and most of all, doesn't indulge in the phony 'my door is open to everyone all the time' spiel that would ultimately serve only to undermine her department heads.
"She understands systems, procedures, and people, is gracious and generous with praise. She is, however, firm when she takes a stand, and frank when offering criticism.
"In other words, there's clearly something wrong with this woman! She hasn't yet understood that she's now in Washington, where all of the above characteristics are considered shortcomings."
Mathes's accomplishments have forced Washington—and the broadcast world—to take note. In March she was named "One to Watch" in Radio Ink's "Most Influential African Americans in Radio" issue. Mathes was the only one of the 10 named by the industry publication from public radio.
Mathes has steered the station through rocky financial times by promoting an all-for-one, one-for-all attitude among both her staff and listeners. It's paid off. Today WAMU has nearly 50,000 active contributors, up from about 30,000 five years ago.

When the economic downturn hit in 2008, WAMU actually saw the number of people who gave during its fund-raising drives jump from about 8,000 to around 12,000. Mathes heaps much of the credit on the station's staff.
"We have a team now that really cares," she said. "They embrace the mission. They view every listener call as an important call. We're working with other people's money, so customer satisfaction is a really important piece."
With a new building, a possible initiative in investigative reporting, and who knows what new technological advances to plan for in the future, fund raising will continue to be a critical component to WAMU's success.
But at its core WAMU still is about informing, entertaining, and educating its listeners, of whom Mathes is a devoted one.
"Unless I'm in a meeting, the radio is always on here," she said from her corner office. "I'm a little bit of an insomniac, so at home there are a lot of nights where the radio doesn't go off until one or two in the morning. It resonates with me when listeners say, 'I feel like I learn something at least once a week, sometimes every day.' As much time as I spend with our service, I feel that way too."