Communications
PR Students Raise $1,300 for Ugandan School Children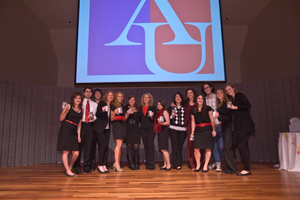 Had they been paid for their work, 13 students in Gemma Puglisi's public relations class would have earned $76,050. Instead, the School of Communication (SOC) seniors worked pro bono on behalf of Arlington Academy of Hope (AAH), raising $1,300 for the nonprofit, which builds schools and medical clinics in Uganda.
Throughout the spring semester, students in Puglisi's PR portfolio class designed marketing materials, raised funds, and spread the word about AAH's global mission. The group compiled contact lists; pitched a variety of media outlets, from NPR to NBC; and organized five fund raisers that drew 925 people and raised $1,300. They also offered recommendations for AAH's annual gala, suggesting AU's Katzen Arts Center as an attractive, affordable venue.
The budding PR execs presented their work to AAH founders John and Joyce Wanda and members of the board, April 21.
"Let me just say, you are worth every penny of that $76,000," said John Wanda with a warm laugh. "You are all so talented and I wish we could have you work with us forever.
"Remember that big things can happen from small beginnings," he continued. "Hopefully you've learned from this that you don't have to have a lot of money or a grand vision to make a big difference in this world."
After their presentation, the SOC students handed the Wandas a check for $1,300, raised from events on campus and at area bars. They requested the money be put toward the gala or building a second school in Uganda.
"You guys have been amazing with your professionalism and creativity," said AAH executive director Jennifer Paul. "You've left a legacy and we're so grateful."