On Campus
Revelers Make a Birthday Wish for Kogod's 55th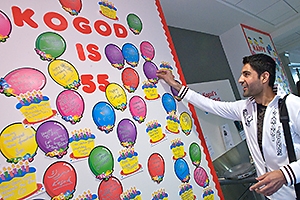 What's a birthday without cake? And what's birthday cake without a wish?
Their lips stained red and blue from AU-themed cupcakes, students, faculty, and staff wished Kogod a happy 55th birthday, April 22, during a celebration at the business school.

May many more exceptional graduates grace your halls.

May Kogod be ranked No. 1 in Business Week.

May a current student become CEO of a Fortune 500 company.
After penning their wishes on a wall in the new Kogod building, hundreds of revelers noshed on finger foods and enjoyed drinks from the Honest Tea bar, in honor of Kogod's commencement speaker, Seth Goldman, founder of the Bethesda-based company.
Students also entered a raffle for a coveted iPad, EagleBucks, Kogod merchandise, and more.