Environment
SIS's New Green Gem Hosts Environmental Event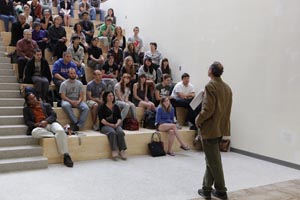 Humans have tamed and managed the natural world to the point that safeguarding it from humans is no longer an option.
In his new book, Living Through the End of Nature: The Future of American Environmentalism, School of International Service (SIS) professor Paul Wapner examines this critical crossroads for the environmental movement.
"The question the book raises is: If there's no such thing as nature in the traditional sense, what happens when it disappears? What does that mean for the environmental movement," explained Wapner, director of SIS's Global Environmental Politics Program.
"I think the 'end of nature' is a terrific opportunity for the movement to rethink itself and become more relevant for the cultural and biophysical world we live in," he continued.
SIS professor Judy Shapiro, who introduced her colleague, proclaimed that the book will "reinvigorate American environmentalism at a time when it's under threat."
It was only fitting that Wapner celebrated his latest work with the AU community in SIS's new, environmentally friendly building. Less than 24 hours after securing the certificate of occupancy for the building, dozens of people streamed into the breathtaking, green building for the Earth Day event.
The April 22 discussion was the first event held in the new building. Workers are still putting the finishing touches on the stunning 70,000-square-foot structure, which officially opens in May.