On Campus
Commencement Goes Viral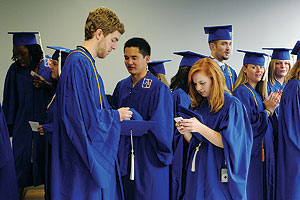 Since 1916, if you wanted to watch the speakers live at American University's commencement ceremonies, well, you had to come to Washington.
No longer is presence at 4400 Massachusetts Avenue a prerequisite to attendance. For the first time, this year's speeches were streamed live on American.edu, just one of a host of technological advances that brought hundreds more virtually to the festivities.
Along with the more than 2,000 graduating members of the Class of 2010, people from around the world could log on and hear from the first female president of Chile, two dedicated public servants, an entrepreneur, and an Academy Award–winning filmmaker during the ceremonies on May 8 and 9.

"If we have the tools available to globally connect students, parents, alumni to commencement—a prime celebration of achievement—we should make it happen," said Michael Heasley, AU's chief Web strategist. "Now that we've done it once, we can do it again. And we plan to."
Not that it was easy. The project was spearheaded by Web communications manager Jon Hussey, Audio and Video Systems and Services associate director Bob Brownlee, and Web developer Marico Hawes.

Though planning began a month before commencement, technical work enabling the streaming wasn't completed until just days before the ceremonies. Yet the broadcast went off without a hitch. The Web page that hosted the speeches included a Facebook social plug-in that enabled people to become a fan of AU and post their good wishes to the graduates, memories of their own graduation, or for that matter, anything else they pleased.

"We wanted to keep people on our site but recreate the feel that you're commenting live on what you're watching," Hussey said. "That's what the Twitter stream did. During commencement we were doing a lot of tweeting and posting photos and quotes on Facebook."
During the ceremonies more than 100 people became AU fans on Facebook, and there were 403 tweets using the hash tag #2010AUgrad.
People used Facebook to communicate a wide variety of thoughts. "I can't believe it's been 14 years since graduating from American University, now they're live-camming the ceremonies," wrote Judy Asman.
Moments after Seth Goldman, TeaEO of Honest Tea, told Kogod graduates "Those who say it cannot be done should not interrupt the people doing it," the remark was posted on Facebook and a dozen people gave it thumbs up.

The same number liked President Neil Kerwin's address to the graduates, and still another had a special message—really a plea—for him.
"Please accept me for the spring of 2011!!!" wrote Mike Bassett. "I want to go to this university more than anything in the entire world!"