Athletics
U.S., Argentinean National Field Hockey Teams at AU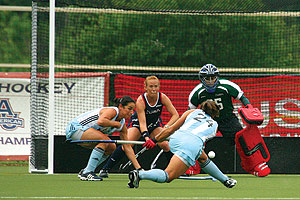 For Team USA, American is home. 
The U.S. national field hockey team has set up shop at American University for a "test series" of five games against Argentina. The contests, all held at Jacobs Field, began May 13 with a 1-1 draw, and conclude May 19 with a game at 4:30 p.m. Admission is free.
Landing the two best teams in the Americas—Argentina is ranked No. 2 in the world, while the U.S. is 10th—was a coup for AU. The series marks the first international field hockey competition on the East Coast since 2007.
Eagles head coach Steve Jennings is an assistant on Team USA and was instrumental in getting the event for AU.
"This will bring a lot of hockey players from not only the region, but from the entire East Coast to campus who have never seen AU before," he said. "They'll see our beautiful campus and our [field hockey] program, and hopefully they'll come away impressed."
Team USA head coach Lee Bodimeade certainly was. His team trains year round at an Olympic facility in San Diego, but the sport's popularity center is concentrated along the eastern seaboard. From North Carolina to New York, every single member of Team USA hails from the East Coast.

"To find a complex on the East Coast like American for us is fantastic," Bodimeade said. "The one thing about the top Division I colleges is they have a professional approach to the sport. The field here is awesome. We're going to have NCAA and high school players from this part of the country here where they'll see some of the best players in the world."
Athletes from both nations spent their days practicing and playing at Jacobs Field and their nights in residence halls—Letts for the Americans, Centennial for the Argentineans.
While Las Leonas, as Team Argentina is known, was more than happy to travel to Washington, the Americans are disappointed that they will not be repaying the visit. Team USA failed to qualify for this year's World Cup, being held in Rosario, Argentina, beginning August 30. The team approached this series of friendlies as the first step toward regaining its place on the international stage.
"They call them friendlies, but I've never played a friendly," said Bodimeade, who as a member of the Australian men's national team won a silver medal in the 1992 Olympics—and always gave 100 percent, even during exhibitions. "For us, it's about the regeneration of our program."
Keli Smith, 31, is a member of Team USA who spent 2005 as a volunteer assistant coach at AU. She used the series to try and knock off some of the rust from her nine months out of action—she gave birth to a baby in January.
"What we've realized is we need to play more international competitions to get into top form," she said. "Playing Argentina is very similar to playing a [collegiate] conference rival. We see them all the time, so we're looking forward to seeing how we do."
The United States has its eye on the 2011 Pan Am Games in Mexico, where it very well could have to go through Argentina to qualify for the 2012 Olympics. If it's successful in earning a ticket to the London games, Team USA will be able to look back on its stay at American as a key step in its journey toward the medal mountaintop.