Athletics
Smith Helping Lead AU Athletics into Online Arena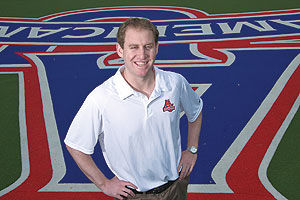 In the madness of March 2009, AU's athletics communications office was wrestling with how best to embark into the brave new world of social media.
Enter Howard Smith. Hired after holding a prestigious internship with the NCAA, Smith immediately set up a live blog for the men's basketball team's march through the postseason, and has played an instrumental role in expanding the Eagles' online presence ever since. 
"When hiring Howard, we knew his background in social media and video production would be helpful in advancing our strategy to use technology and online media to heighten our visibility," said David Bierwirth, senior associate athletic director for development and special events. "His work, and that of our entire external staff, has helped us grow our Internet presence in enormous ways and strengthened our marketing, fund raising, and alumni relations efforts. Social media may be an ever-changing platform, but it's here to stay and we've embraced it."
As has Smith. A native of San Diego, he attended high school in Las Vegas, where his family now lives. Smith played basketball and baseball growing up, but it was on the golf course that his athletic talent emerged. While a business major at Carnegie Mellon University in Pittsburgh he had enough game to record eight top-10 finishes during his junior season, and enough brain to be named a 2007 and 2008 Cleveland Golf All-America Scholar.
An internship at Wells Fargo the summer before his senior year convinced Smith that finance wasn't for him, so he turned his attention to the world of athletics.

Success came quickly. After graduating, he landed one of 19 coveted intern slots at NCAA headquarters in Indianapolis.
"They gave me a lot of flexibility to be creative," said Smith, who seized it. He produced videos, blogged, and at one point hosted the weekly podcast "Mondays with Myles," in which he and the late NCAA president Myles Brand deconstructed issues surrounding collegiate athletics.

Since coming to Washington, Smith, who's pursuing a MBA at the Kogod School of Business, has spearheaded an explosion of Eagles content across online mediums. The athletic department now has 580 Twitter followers, 886 Facebook fans, and has posted 193 videos of everything ranging from game highlights to student-athlete profiles on YouTube.
"It's a new culture," Smith said. "We've created a pretty solid [online] presence. It's a great way for parents, fans, and alumni to stay connected to college athletics."
His golf game might be a bit rusty—these days he's as likely to shoot in the 80s as he is to equal his low round of 68—but Smith is determined to ensure that his mind doesn't rest. He's working toward a MBA and always keeping an eye on where media technology is headed—and how AU can capitalize on it.

"I like the size of our athletic department," he said. "We're playing major Division I sports, but it's small enough that we can establish relationships with the coaches and student-athletes."
Thanks in large part to his work, Eagles fans around the world are forming those relationships as well, one click at a time.